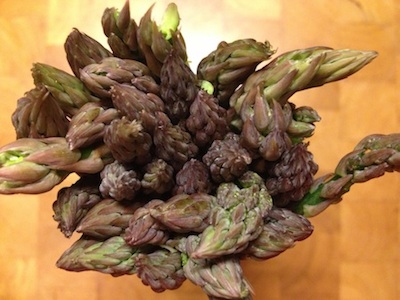 One of the first signs of spring is the arrival of the asparagus. This delicious vegetable is high in vitamin A and phosphorus.
Steaming is most popular way, but by grilling or broiling it, you get a deep flavor that boiling cannot bring forth.
1 1/2 pounds asparagus, trimmed
2 Tbsp balsamic vinegar
1/4 cup olive oil
salt and pepper to taste
one, 2-ounce piece of Parmesan cheese
Preheat the broiler
Place the asparagus in a single layer in a large gratin dish
In a small bowl, mix together the vinegar, olive oil, and salt and pepper. Pour the dressing over the asparagus and bake for about 20 minutes, or until tender but firm.
Let the asparagus cool and then transfer it to a small platter or serving dish. Using a potato peeler, grate 6 to 8 thin pieces of Parmesan and crumble the cheese over the asparagus.
Source: Anna Getty's Easy Green Organic

Print Friendly