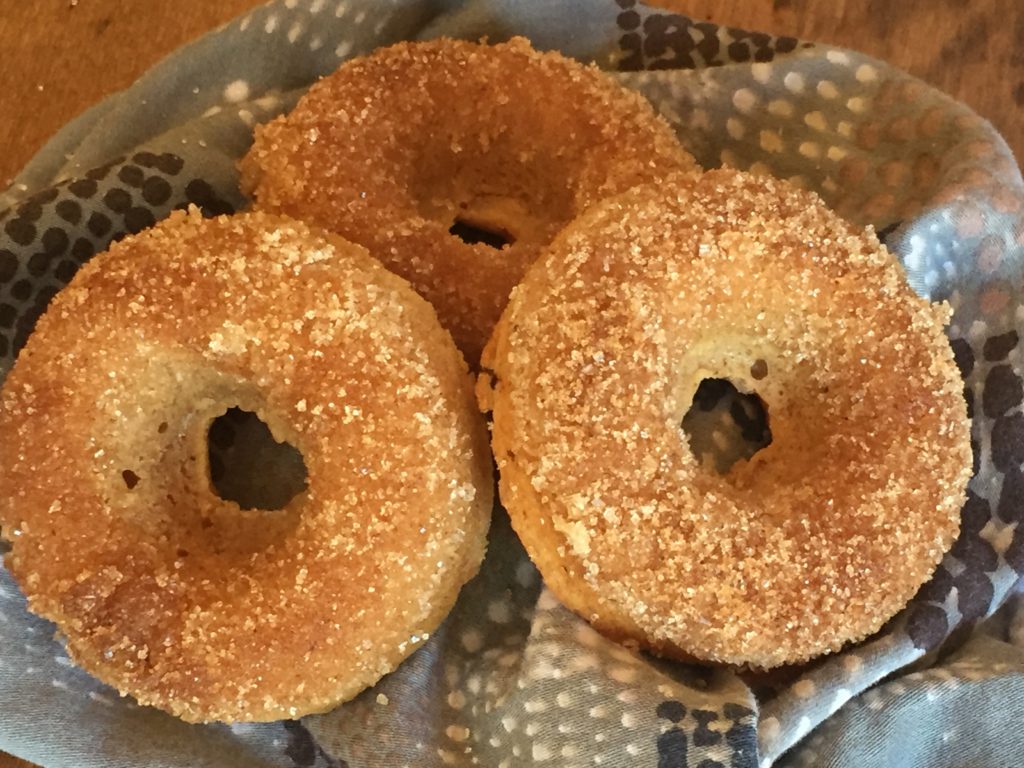 In one form or another the doughnut has been around for some time. Most often fried, we opt for baked donuts, which are easier and faster to make (AND, they're easier on our waistline than fried versions). This recipe pairs warm spices and autumn inspired ingredients for a delicious take on this baked doughnut.
10 Tbsp unsalted butter, melted
1/2 cup light brown sugar
1/2 cup granulated sugar
2 eggs
2 tsp vanilla extract
3/4 cup buttermilk
2 cups apple cider, reduced to 3/4 cup
3 tsp baking powder
2-1/2 cups all-purpose flour
3 tsp cinnamon
2 tsp nutmeg
pinch salt
For Topping
6 Tbsp unsalted butter, melted
1 tsp cinnamon
1/4 tsp nutmeg
1/2 cup granulated sugar
Preheat oven to 350 degrees F. Spray a doughnut pan with cooking spray, or brush with melted butter.
Pour apple cider in saucepan and simmer on low-medium for 15-20 minutes, or until the cider reduces to 3/4 cup. Set aside to cool.
In a large bowl, whisk together the flour, baking powder, salt, cinnamon and nutmeg.
In a separate bowl, mix the melted butter and sugars together. Add the eggs and vanilla and stir until combined. Add buttermilk and apple cider, combine until smooth. Stir in the flour mixture and mix until just incorporated — do not over mix, otherwise donuts will be tough.
Spoon batter into doughnut wells. (Or, spoon into pastry bag not fitted with a tip, snip end and squeeze into doughnut wells.)
Bake 14-15 minutes, or until tops are firm and doughnut springs back slightly. Allow doughnuts to cool for 5 minutes in the pan, then remove and place on wire rack.
While they are cooling, prepare topping.
In a small bowl, melt butter in microwave and set aside.
In another bowl, mix together the cinnamon and sugar.
When they are still warm to the touch, dip the top of the doughnut in the melted butter, then dip in cinnamon sugar mixture.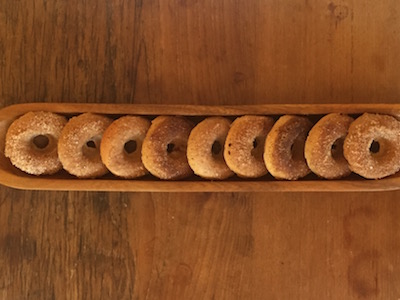 Save
Save

Print Friendly