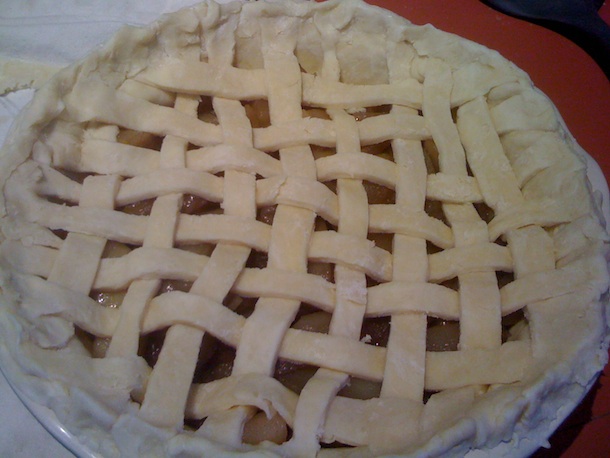 Apple pie is a favorite all y ear 'round, but when it comes to the holidays, it is a must. Make a traditional apple pie, such as this recipe, the top with homemade whipped cream and caramel sauce. For added visual appeal, create a decorative top crust.
Pie crust
2 cups flour
¾ cup Crisco
1 tsp salt
5 Tbsp water
For Pie
8 to 12 green apples
1 cup sugar
2T flour
¼ tsp. salt
½ tsp cinnamon or ¼ tsp nutmeg
1 Tbsp butter
Divide crust in halves.  Roll one half to fit a deep pie plate.   Fit into plate being sure that crust reaches slightly beyond edge of pie plate rim.  Set the lined pie plate in refrigerator to chill and to let the pie crust relax.
Wash, quarter, pare and core apples.  Slice in about ¼-inch slices.  Mix sugar with flour and salt.  Put about 1/6 of this in bottom of pie plate.
Mix remainder with apples.  Dust with nutmeg or cinnamon.  Dot with butter.
Roll second half of pie crust to fit over top of pie.  Tuck the outer edge under lower edge.  Crimp rim.  Brush surface with cream.  Set in preheated 400 degree oven and bake 50-60 minutes.
Source: Mom

Print Friendly