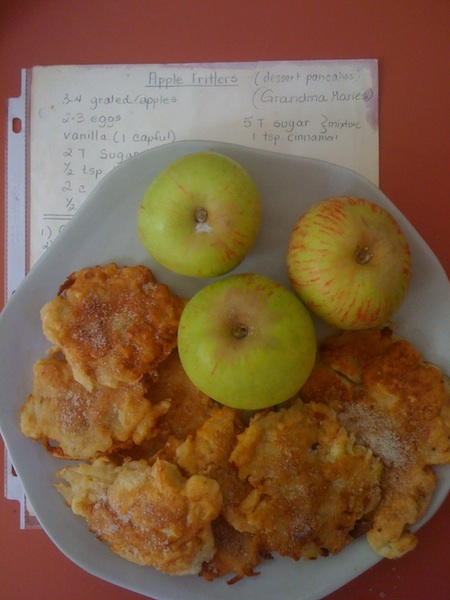 All this talk about fruits of the season has me excited about apple season. Having just returned from the Gravenstein Apple Fair, and our apple tree out back readying itself to offer us up basket upon basket of goodness, I was inspired to dig out one of my favorite apple recipes from deep inside my recipe box — Grandma Marie's Apple Fritters.
Whether you're enjoying a Gravenstein, Gala or Jersey Mac these dessert pancakes are sure to please.
Grandma Marie's Apple Fritters
3-4 grated apples
2-3 eggs
1 tsp vanilla
2 tbsp sugar
½ tsp baking powder
2 cups flour
½ cup milk plus a bit more water
Directions:
1. Grate apples
2. In a bowl, combine slightly beaten eggs, vanilla and sugar
3. Add flour, baking powder, and milk/water until dry ingredients are wet. Do not beat.
4. Add grated apples – Batter should be a thick pancake-type consistency that sticks to the wooden spoon
6. Heat a tablespoon or two of the oil in a skillet on low
7. Put about 1 wooden spoonful of batter into a pan (as many as can fit)
8. Press down slightly (flatten) and let cook on one side about 2 minutes (Don't let them get too dark)
9. Turn over and brown another 2 minutes.
10. Immediately remove and coat 2 sides with cinnamon/sugar mix.
Parisian Apple Crisp
2 lbs. (about 4 large) tart cooking apples, peeled, cored and cut into 1/2″ slices
1 1/3 cups sugar
1 cup flour
1/4 tsp cinnamon
2/3 cup chopped almonds
1/2 cup melted butter
3/4 tsp vanilla
1 cup heavy cream, softly whipped
Spread apples in buttered shallow 9-inch round baking dish (about 2-quart capacity). Combine sugar, flour and cinnamon; stir in almonds. Mix butter butter and vanilla and add to almond mixture, tossing with fork to make crumbly mixture; sprinkle evenly over apples.
Bake in preheated 400 degree oven for 30 to 40 minutes, or until topping is richly browned and apples are tender. partially cool on rack. Spoon out to serve. Tope with whipped cream.
Makes about 6 servings.

Print Friendly