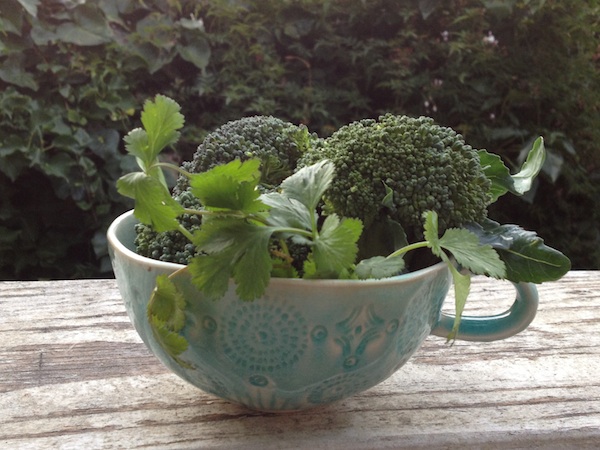 I was a bit tentative, but I dove right in. It was late afternoon, and I needed a bit of something to hold me over until dinner, so I grabbed a bit of broccoli and cilantro and drank it up.
Yes, you heard me right. I was drinking some broccoli and cilantro.
As always, when I'm taste-testing something, the kids make their way into the kitchen to see what's up.
"Go ahead, smell it, and tell me what you smell, " I said to one.
"Vegetables," was the reply. "That's right, it's Broccoli and cilantro."
A few minutes later, my little non-vegetable eater arrived, and I said to go ahead and have some.
She suspected something was up but gave it a try anyway. No go – she shook her head and said, "No, I don't like vegetables."
She may not have liked it, but she did get it right – it was one of the new one of the new Savory Tea blends from the company that has pioneered Rooibos, Honeybush, Flowering tea, and the first full line of organic pu-erh teas in the U.S. market, Numi Organic Tea. The new veggie-spice-tea blends are an adventure in taste. We agree. It's not quite a soup, but more than a tea.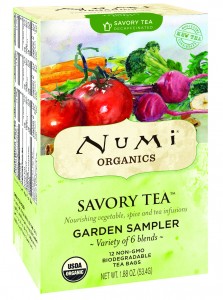 The new savory sensations are a perfect low-calorie snack alternative, a delicious complement to a light lunch, a comforting cup for a cold or flu, and a great addition when cooking rice or noodles – something I'm looking forward to trying.
All of the blends are 100% organic, and made with premium full-leaf tea with real fruit, vegetables, herbs and spices. Choose from six flavors or go for the combination box – each box contains 12 bags. Flavors include Tea Mint, Carrot Curry, Fennel Spice, Spinach Chive, Beet Cabbage, and Broccoli Cilantro.
They box of 12 bags retails for $7.99 and will be available February 15th at NumiTea.com, and March 15th at selected Whole Foods stores.

Print Friendly