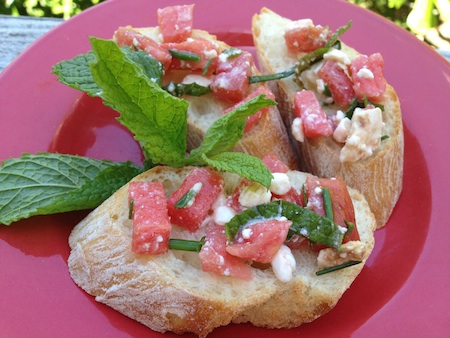 Expand the possibilities of watermelon, and create this refreshing appetizer that is perfect for picnics, barbecues, and parties. The addition of feta cheese and the flavor of herbs take this summer fruit to new flavor heights.
2 tablespoons olive oil (preferably extra-virgin)
2 cups diced watermelon
1 cup feta cheese, cut into fine diced cubes
2 tablespoons minced fresh chives
2 tablespoon minced fresh mint
4 teaspoons balsamic vinegar, or to taste
In a bowl toss together watermelon, cheese, chives, mint, vinegar, and salt and pepper to taste and mound about 1 tablespoon on oiled side of each toast.
To make toasts: Prepare grill or preheat broiler. With a serrated knife cut bread crosswise into 1/2-inch-thick slices. Arrange bread slices in one layer in a shallow baking pan and bake in middle of oven until golden, about 10 minutes.
 Source: National Watermelon Promotion Board

Print Friendly