First you have a savory medley of sautéed vegetables in the pan, then an herbed quick-bread batter gets poured over the top. Bake it and invert onto a try, and you end up with a handsome two-layered dish – savory cake on the bottom and vegetables on top. Impressive and easy; any beginner can make this.
Part I: The Vegetables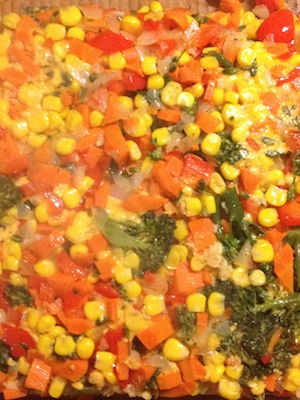 3 tbsp butter
1 heaping cup chopped onion
2 cups small broccoli florets
1 medium-sized carrot, diced
1 1/2 cups small cauliflower florets
1 cup minced red bell pepper
1 cup corn (fresh or frozen)
5 medium cloves garlic, minced
5 scallions, minced (whites and greens)
salt, pepper, and cayenne to taste
1 packed cup grated sharp cheddar
Preheat oven to 350 degrees F. Grease an 8-inch baking pan with 2 tablespoons of butter. Put up a medium-sized saucepan of water to boil. Have ready a strainer and bowl of ice water.
Melt the remaining tablespoon of butter in a small skillet over medium heat. Add the onion, and sauté until translucent and sot (8 minutes).
Meanwhile, when the water comes to a boil, drop in the broccoli, carrot, and cauliflower, and blanch for just 30 seconds. Drain in the strainer over a sink, then immediately drop into the ice water. After a few minutes drain again, dry with paper towels, and transfer to a bowl.
Add the sautéed onion and the remaining uncooked vegetables. Mix well, ,and season to taste with salt, pepper, and cayenne. Spread the vegetables into the buttered pan, and sprinkle the cheese over the top.
Part II: The Cake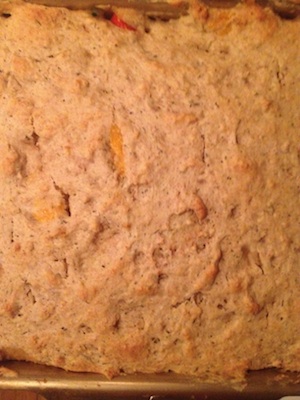 1 cup unbleached white flour
½ cup whole wheat pastry flour
1 tsp baking powder
½ tsp baking soda
½ tsp salt
1 to 2 tbsp sugar
½ tsp each: dried oregano and thyme
2 tbsp minced fresh dill
1 egg
1 cup buttermilk or yogurt
2 tbsp melted butter
Sift together flours, baking powder, soda, and salt into a large bowl. Stir in sugar and herbs. Mix well, and make an indentation in the center.
In a separate medium-sized bowl, beat together the eggs, buttermilk or yogurt, and melted butter.
Pour the liquid mixture into the well in the center of the dry ingredients. Mix by hand – minimally but thoroughly – until well combines, being sure to scrape the bottom and sides of the bowl.
Carefully spread the batter over the vegetables in the pan. Using a blunt knife and/or rubber spatula to distribute it as evenly as possible.
Bake for 40 to 45 minutes – until a toothpick inserted into the center comes our clean. Have ready a clean serving tray slightly larger than the baking pan. Let the cake cool in the pan for about 10 minutes, then invert the cake firmly and carefully onto the tray. Bring the whole thing to the table to delight your guests. Cut into squares, serve hot, warm, or at room temperature.
Source: The New Enchanted Broccoli Forest, by Mollie Katzen, copyright 1982, 1995, 2000. Ten Speed Press.
Save

Print Friendly