This summer as we descended on Oklahoma to visit family, we had a few days in Tulsa before heading to Grand Lake for the Fourth of July. It was a perfect time for a Tulsa Tea Party.
Planned by my sister-in-law, Janet, the tea party would be a gathering of generations, bringing together great-grandmothers and grandmothers with cousins, second cousins, aunts, mothers and little girls, for an all-girls day while the Everage family was in town.
Tea Party Revamped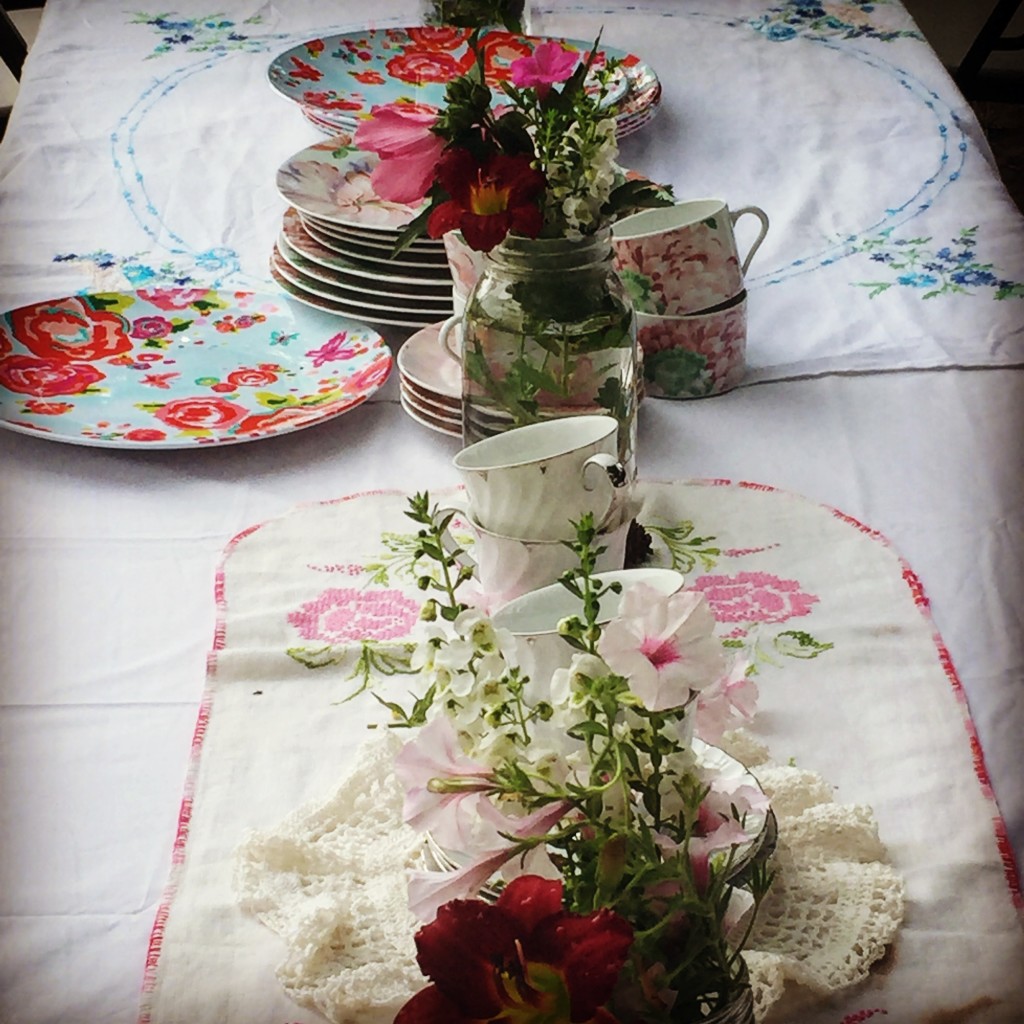 When I think about a tea party, I conjure up a vision of me sitting prim and proper at a table topped with laced tablecloths and dainty tea cups. I envision myself quietly whispering to my table mates while we nibble on small sandwiches — the clink of porcelain tea cups in the background.
But not this tea party. Janet's Tulsa Tea Party adventure would be held in her backyard, and would prove to be a less stodgy affair than my thoughts of a tea party would be.
What was wonderful about this tea party is that everyone was involved. The cousins took to helping each other decorate the table. Once the men set up the table and chairs out under the trees in the backyard, a white tablecloth was spread atop of it. My girls gathered the tablecloth around the legs and tied them with pink ribbon. Next, Nanan's tablecloths and doilies, adorned with her own needlepoint work, topped the tables. Nicole and Keely then began decorating the backs of the chairs with curled ribbons, and Addie helped her cousin, Lauren, pick flowers for the centerpieces.
Meanwhile, costume jewelry and party hats piled up inside awaiting to adorn everyone. Once everyone arrived, we assembled in the backyard for our tea party. The men were on hand for a few more minutes to take some photos of our gathering, before we shooed them out of the house.
Let the Party Begin
As we sat down, ages from 1 to 87, we marveled at the beautifully decorated table. The peppermint tea was steeped, and the food — chicken and egg salad sandwiches, strawberry parfait, scones and cream — were placed on the table.
The excitement of having four generations together at the table, including those of us from out of town, kept us chatting, sipping, laughing and creating memories to last a lifetime.
What a great tradition Janet started. My girls and I are already looking forward to our 2nd annual Tulsa Tea Party scheduled for some time in Summer of 2018.
Save
Save

Print Friendly