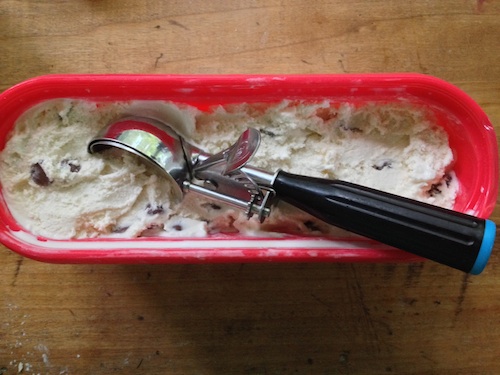 It may be cold and snowing outside, but we're still enjoying making our ice cream this winter. From peppermint at Christmas to vanilla bean and chocolate chip for Valentine's Day, and all the birthdays in between, our Cuisinart ice cream and sorbet maker has been getting a workout a one of our favorite tools in the kitchen. But, alongside our ice cream maker, one of our favorite new tools is the Tovolo Glide-a-Scoop Ice Cream Tub
After I'm done making the ice cream, and before the kids get a hold of it, I need a container to store it in, and this innovative insulated container does the trick. With a 6-cup (1-1/2 qt) capacity and measuring 11½" x 4″ x 4″, it is perfect sized to hold a full batch of ice cream. And, it is perfectly sized to easily slip into our overly stuffed freezer. It's slim design to fit into any tightly packed freezer or freezer door, which is usually where I can find a spot for it.
The narrow container helps us with the scooping – and the nonslip base helps keep in in place while using — ensures its easy enough for the kids to use. And, when we've no ice cream to store, we use the container to store our homemade yogurt.
Made from BPA-free polypropylene, the Glide-A-Scoop comes in four fun colors: Strawberry Sorbet, Raspberry Tart, Pistachio and Orange Crush.
You can purchase the container from Amazon, Williams-Sonoma and Sur La Table.
Or, visit the Tovolo website to locate a store near you.

Print Friendly