We always leave home with a beverage in our hands, and that's why drinkware has become a lifestyle accessory — something that offers functionality along with a bit of fashion to add personality to your day. Whether you're a tea or coffee drinker, a rough-and-tumble outdoorsy person, a gym-bound warrior, or out for a stroll with your dog, the functionality of thermal beverage containers continue to meet consumer expectations.
Let's take a look at a few new designs readying to hit the store shelves.
Creative Customization with Tervis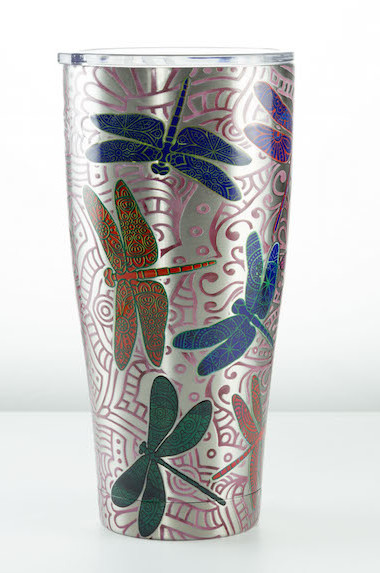 Tervis, the makers of the original insulated, everyday, on-the-go drinkware is taking the category they created and revolutionizing it once again by bringing their trendsetting designs to Stainless Steel.
The new collection offers an impressive collection of stainless steel designs as well as customization options that is synonymous with the Tervis brand. You'll will be able to add personal photos, text and backgrounds on these 20 oz and 30 oz stainless steel cups, just like you can on tumblers, sippy cups, water bottles and wine glasses at Tervis.com.
This stainless steel collection is currently available in top-selling designs from Cherry Blossom to Fishing Lures. They come with a limited lifetime warranty, are shatter and spill proof with an easy closing lid, and will keep drinks ice cold for 24 hours and piping hot for eight hours.
For more info about Tervis please visit, www.tervis.com
Collapse and Expand with Hydaway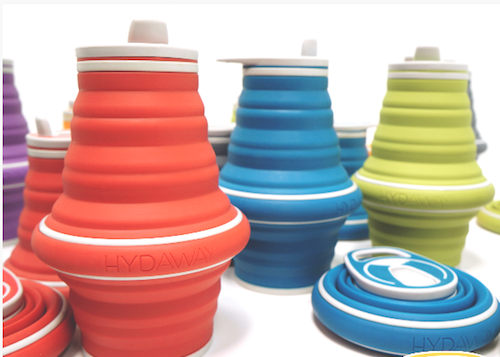 Don't worry about carrying an empty water bottle, try Hydaway, a collapsible bottle that is made from flexible BPA-free, food grade silicone. When empty, they can be folded down to just over 1 inch to easily fit in a pocket, backpack, or diaper bag. Easy for everyone to use (easy for kids to grip), for daily excursions and even backpacking. They are watertight to prevent leaks, come in colorful options, and have a carrying handle.
They're perfect for so much – traveling, hiking, on-the-go, adventures, lunchtime, camping and commuting. Available in 21 oz and 12 oz sizes, along with a travel case. You can learn more at hydawaybottle.com
Let Your Personality Shine Through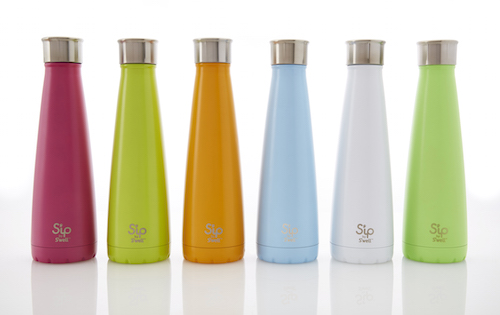 S'ip by S'well is playfully designed to bring charm and fun to your everyday water bottle, allowing you to let your personality shine through. Whether it's ice-cold water, fresh juice, or a steaming cup of hot cocoa, S'ip will keep your beverages hot or cold all day long. Utilizing the ThermaS'well™ technology, your bottle is built to keep your favorite drink piping hot and icy cold. It's wide base provides extra stability, but fits in a standard sized cupholder, and the vacuum seal leaves your bottle condensation-free.
Your S'ip bottle is your everyday hydration companion that shows your personality. The patterns and colors are designed to keep you sipping in style, with a S'ip bottle to match any mood, personality, outfit or activity. There surely is something for everyone. You can find these bottles at Target, or visit sipxswell.com.
Style and Function all Wrapped up in One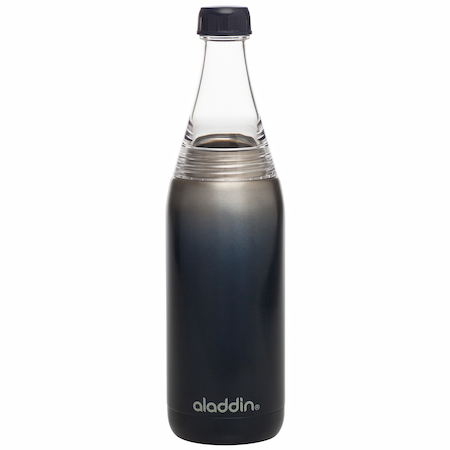 Aladdin has so many great styles and designs to choose from, but it is the Fresco Twist & Go Hybrid which caught my attention. The 20-ounce bottle features a vacuum insulated stainless steel body which keeps drinks cold for 8 hours (and iced for 16). The Tritan™ plastic top is durable so it won't crack, break or stain. The two-way lid, opens to allow easy adding of ice – or to clean, or twist off the cap to sip. Available in a variety of colors, and great designs. Also available in the vacuum bottle with stainless steel all the way. Available in a variety of designs. Visit aladdin-pmi.com.
Dogs Need Hydrating Too!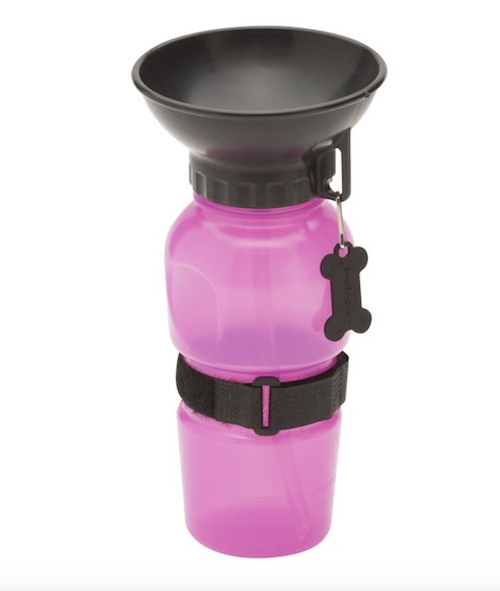 AutoDogMug from HIghwave is the first and only travel mug for a dog.
Featuring a on-handed operation, simply squeeze and water is delivered in the bowl;release and water returns to the bottle. The velcro strap becomes a handle for hiking or can attach to a pack.
The AutoDogMug holds 20 ozs of water, and easily fits into a car cup holder.
Food Safe and BPA free
For more information, visit highwave.com.

Print Friendly