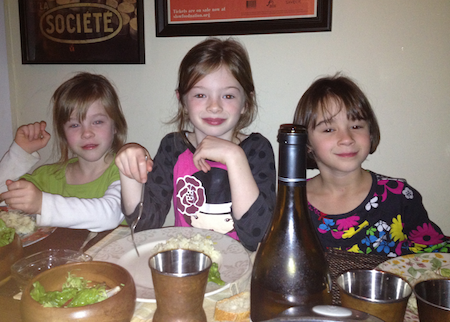 The kids are getting bigger and the dinnertime battles are getting easier – a bit easier. These days the fight is less about what is on the dinner plate and more about keeping the kids from goofing around at the table. But, at least we are all here, around the table.
And, for the past three weeks we've been here around the table with Grandma and Grandpa. There's been some goofing around, there had been frequent fights over who gets to sit next to Grandma and Grandpa, there's been some great conversation, and there have been some tears as well – spaetzle tears.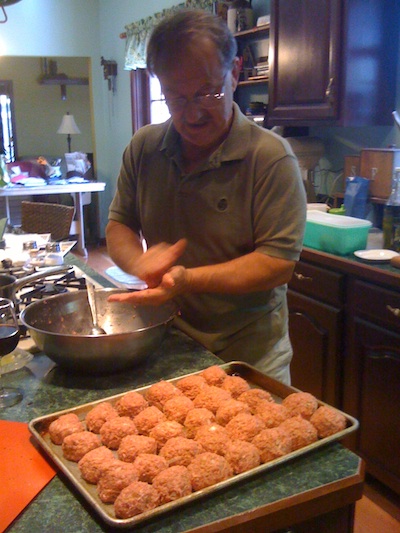 Those tear came from my big boy on the night that Grandpa made his famous meatball and spaetzle dinner. It is a meal that the kids love, so I asked Grandpa to whip it up one night when I was busy trying to catch up on work.
The excitement over dinner was high, and before I could even sit down at the table, my boy had a pile of spaetzle on his plate that made me immediately realize my mistake.
I had forgotten to tell Grandpa to make 2 batches of the recipe.
I then looked at Keely, who was deposited a truck load of them on her plate, and spotted Nicole and Addie readying to do the same.
"Whoa," I said. "Put some of that back, Grayson, other people have to eat."
"But, Keely has more than me!" he kindly pointed out to me.
He was right, but I had to start with one of the kids, and I had to ensure that there was enough spaetzle to share with the rest of the family, including Greg, who had yet to return home from work.
I took things into my own hands and rationed the remaining spaetzle among the family, then placed the bowl on the counter – out of child's reach.
Dinner commenced, and so did his pleas for more.
I said, "Eat a meatball." He did, and then asked again.
I repeated my request, "Eat another meatball."
The tears weeled up in his eyes. "But you said to eat the meatball and I did, now you want me to eat more. I want spaetzle," he said through his tears.
The grandparents sat wondering what was going on.
I had to chuckle (although my son didn't like this), as he was crying over spaetzle. To me, it was humorous because he loved those little dumplings so much, that he held so much emotion for it. He loved this meal, and he wanted more.
To help assuage his sorrow, I asked Grandpa to make another batch of spaetzle so that everyone could have more – including Dad. With that promise in hand, the dinner got back to its usual state – we talked about the first time Grandpa made the dinner for us, what we did that day, and what our upcoming school projects were to be about. We talked, we laughed, and we cleaned our plates.
Fast forward a week and I'm bustling around the kitchen making dinner. Mom is there too, whipping up some of her delicious chocolate chip cookies. Elsewhere around the house, games are being played, grandchildren are being tickled,  and football is being watched. despite the craziness, everyone took the time to wander into the kitchen to remark on how good things smelled.
When we finally all sat down to dinner, everyone was ready to dig into the pork ragu and polenta dinner. It wasn't as tear-inducing as last week's spaetzle dinner, but it did elicit a few second servings.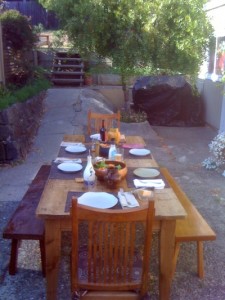 As we emptied our plates, we reminisced about all that we did during their three- week visit, and all that we ate – from Christmas dinner to birthday cakes and everything in between.We enjoyed some of our family favorites, ordered in Joe's Stone Crabs for New Year's Eve dinner, and indulged in a host of baked goodies and birthday cakes from Grandma. And, each time we gathered around the table together, there was an excitement in the room, and the desire to just sit and talk.
And, that's what I want to remember. Gathering around the table – together – talking, laughing and enjoying great food.  This time, there weren't any tears for the polenta, but there was a bit of melancholy as we knew that it would be our last meal with Grandma and Grandpa. They would depart for home in the morning, leaving us with two empty seats at the table.
I am confident, though, that those empty seats will keep us talking about all the great times we shared during their visit– many of which, were around the table.
Gather. Enjoy. Embrace.

Print Friendly