It is the end, of craziness. Today, January 13, 2016 marks my official New Year. I'm almost 2 weeks late in celebrating the arrival of 2016, but with the delivery of more than 2 dozen homemade donuts to my daughter's school yesterday morning (for her birthday celebration), I am officially off the hook for any holiday baking, party planning, or present shopping until May.
It is always an exhausting few months, starting with Halloween (which includes our annual Pumpkin Carving Party) followed by Thanksgiving, Christmas, twins' birthday, New Year's, and then Nicole's birthday. I'm exhausted, tired of baking for the occasions, tired of planning 'events', tired of eating cake. Today, I am ready to get back to the day-to-day routines.
Reprogramming
As I transition back to the day to day routine, I find myself trading Planning for parties and events, for planning our daily meals, snacks, food shopping, and on-the-go eating for swimming, dancing and more. Admittedly, it is not an easy task. I have to reprogram my big-picture planning, for the every day planning.
Our CSA box from Farm Fresh to You arrived again today, and it was filled with the best of winter's fruits and veggies from oranges, grapefruit and kiwi to squash, carrots and kale. Things like grapefruit, kiwi, and carrots are popular around here, but other foods that sometimes appear in the box require just a bit more planning on my part, (sunchoke, for example).
That's what is happening with the squash. It is piling up in my kitchen, and I must put my head to thinking how to change my kids' feelings about eating it. Taking the 'try-and-try-again' attitude, I'm focused on reprogramming their attitude about it. I plan for a pasta and squash meal one week, then risotto and squash another. I've slipped some squash into our vegetable barley soup, and even just roasted chunks of it as a side dish. Still, I only 50% of my kids indulge in the offering . . .
But, by the time the last squash leaves our home, I am determined to have reprogrammed myself for the day-to-day meal planning, and hopefully will have reprogrammed my kids to have a better attitude about squash.
To get me re-started on my day-to-day meal planning, I know that I must get back to the basics. And that starts with Planning– One of the Family Eats Four Pillars. Whether you have an abundance of squash in your house, or you are trying to reconnect with the food you eat and the family you love, here are
Three Easy Tips to get your New Year's Meal Planning on the Right Track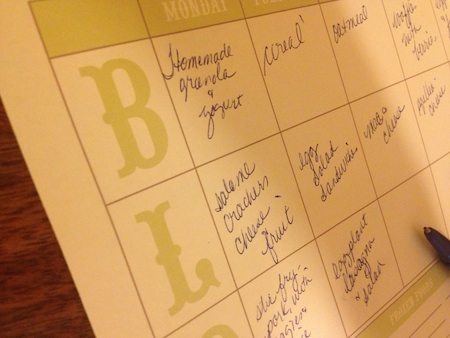 Plan a Week's Worth of Meals and Snacks Start the planning before you go to the store. This helps me keep focused and not worrying about the What's for Dinner dilemma. It also helps me direct the kids towards what to pack in their lunch as well as what to have as an after school snack.
Stock Your Pantry A well-stocked pantry, filled with essentials, will take off so much of the pressure when it comes time to prepare a meal. Take the time to assess what is in your cupboards, and restock with essential ingredients from beans and grains to soup stock and spices.
Stick to Your Plan, But be Flexible This is where the well, stocked pantry comes in handy. Things come up throughout the week and I am forced to change gears a bit. If you forgot to defrost the ground meat for the meatball soup, have another meal waiting in the wings that is easy to make on the fly and doesn't require you to go shopping, or to order take-out.
Good Luck, and Happy New Year!
Laura

Print Friendly