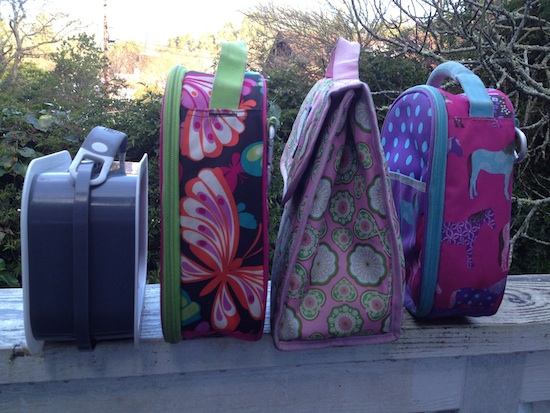 For most of my elementary school years, my mom packed the same sandwich in my school lunch continuously – goose liver on white bread. We laugh about this fact often, and to this day, the thought of goose liver brings shivers down my spine – that is, unless I'm in France enjoying the real thing!
I eventually gained my voice as a child, and protested, asking for something else. Along came the era of hard salami on rye, which proved to be a bit more palatable to me. I brown-bagged it all the way through high school; one of the very few who actually did. It was kind of the nerdy thing to do, and I felt a bit alone, as I had to sit at the lunch table, saving places for all my friends who were walking through the lunch line.
When I grew up and began to work in an office, the habit of bringing my lunch continued, and so did the loneliness. My lunch was often consumed at my desk, while the rest of the office took off for a local restaurant. On occasion I would join them, with my brown bag in hand. I would sit with my brown bag lunch, saving a table at Subway, while they all walked through the 'lunch line.' (Flashback).
Now that all my children are  in school, all those brown bag memories come flooding back to me. I get constant requests to allow them to purchase the 'hot' lunch at school. Those pleas are interspersed with requests for foods that appear in his friends' lunches – juice boxes, fruit roll-up, and the like. My response is varied, according to the situation, but it generally is related to a mantra that I like to follow:
"If I won't eat it myself, then I'm not going to give it to my children."
Now, that doesn't include the foods I'm not very fond of, such a fish. What I'm talking about is the portable, convenient, highly processed snack-sized foods. I've tasted fruit roll-ups, and highly processed 'bars' marketed under the guise of 'granola.' I've seen the ingredient list of Lunchables, and  — nothing appeals to me.
What appears in their brown bags (although not really a brown bag), are the foods we eat at home: leftover sausage and dumplings, a sopressata and mustard sandwich, chicken cubes or lentil soup. These offerings are complemented by cut cucumbers, carrots or pickles. I'll include a snack – crackers and peanut butter (yes, we can send peanut butter with our kids to school), almonds and dates, homemade muffins, a pizzelle, or some other baked goods from home. Top that off with some fruit, and I'm confident they have their share of brain food, energy to keep them going throughout the day. When they return from school, the lunch bag is empty (for the most part).
I'm not saying that all kids who brown-bag their lunches are served up convenient foods that are highly processed and prepackaged, but a good portion of it is. Which leads me to wonder why kid's lunches are filled with these processed, convenience foods, when adults seem to be packing more interesting and healthy foods in their own brown bags?
There is no doubt that we have come a long way from PB&J – or should I say, goose liver? Hummus and Veggie Wraps (see below), fresh pasta with carrots . . .
A quick Google search will net you hundreds of great lunch food ideas – for your children and yourself – spend some time gathering a list of lunch foods to be used throughout the month.
In addition to the choice of foods, there are a few important things to remember to ensure that lunch gets eaten and not thrown in the garbage. A recent email I received from Bright Horizons, one of the after-school childcare programs here in Mill Valley, gave me more reason to think about my brown bag choices. It reads, "In schools, 'Children may have as little as 20 minutes to make it to the cafeteria, find their seats, eat, and clean up after themselves, so ease is the name of the game,' says Hillary Wright, MEd, RD, of Harvard Vanguard Medical Associates." Hearing that statement, I thought back to something that Grayson recently told me. "I don't want yogurt as a snack, because it takes too long to eat and the recess is very short." So, that's why the half-eaten yogurt ends up all over the lunch bag. Note to myself: When packing yogurt, make sure it isn't for his mid-morning snack.
The article continues, explaining that the best way to encourage children to eat healthy is to make them part of the shopping and choosing experience. I couldn't agree more. I find that the more I ask my kids what they would like in his lunch (of course I give him guidance as to what is available), they come home with an empty lunch box. I chuckle to myself, remembering back to my own goose-liver experiences. (Mom never asked)
I like to plan lunch right after dinner, and ask what they  might like – leftovers, egg salad sandwich, or whatever.
When I plan for the week's meals, I also plan for lunch and snacks. I make muffins, spice bread, or even pizelles – something I can put in the freezer and pull out during the week – or the next  – as an option for a snack. I plan cut vegetables and a dipping sauce, which fruit to offer. I pack what I can the night before and save things like fruit or an egg salad sandwich for the morning (so it doesn't get mushy).
All of this talk about planning, brings me to my next 'feeding' dilemma: What to do on the weekends when we're out and about. Every weekend, as the family heads off to our next adventure, I'm thinking about where we are going, how long we will be gone, and how much food and drink to bring along. My desire to have a quiet, relaxing ride in the car, without having to quell the rising tide of hunger from four kids sitting behind me, has led me plan ahead. Sure, a quick jaunt through the drive-thru or grabbing chips at the convenience store will satiate our hunger, but that isn't doing much for our health, our pocketbooks, or the Earth (in the form of trash).
Whether it is a short run to the park or a trip on the plane, bringing food (and drink) along wherever we go is commonplace.
The following is just one of our lunchtime favorites. Hope you enjoy.
Hummus and Veggie Wraps
2 tbsp olive oil; reserve half
3 small cloves garlic, chopped
½ small yellow onion, chopped
1 15-ounce can garbanzo beans, drained and liquid reserved
¼ cup sesame tahini
Juice of 2 lemons
¼ tsp hot paprika
¼ tsp cumin
1/8 tsp cayenne pepper
salt, to taste
2-3 carrots
1 seedless cucumber, cut into julienne strips
1 small bunch spinach leaves, washed and dried
4 10-inch whole-wheat tortillas
1.  Heat 1 tbsp olive oil in a small pan. Sauté garlic and onion until translucent.
2.  Transfer to a food processor bowl and add remaining 1 tbsp olive oil, garbanzo beans, tahini, lemon juice, and spices. Puree. Add reserved garbanzo bean liquid to achieve desired consistency.
3.  Spread each tortilla evenly with hummus, and top with carrot, cucumber, and spinach leaves. Roll up tortillas tightly, leaving ends open. Halve diagonally with a serrated knife and wrap with wax paper.
Serves: 4
Nutrition per serving: 511 calories, 34% fat calories, 20g fat, 3 g sat fat, 0mg cholesterol, 69g carbs, 18g protein
Source: Delicious Living July 2002

Print Friendly