These past two weeks at Mom's have been filled with lots of fun. But perhaps one of the hallmarks of our annual visit to Ohio is Mom's constant baking. She loves to bake, and when her house is filled with grandkids, what better excuse than to start baking. The problem is, when she finally waves goodbye to the family and puts them on the plane, the dessert detox begins. Until then, it is no use trying to say 'No' to dessert, we just relax and enjoy the parade.
This week, our Ten for Tuesday post highlights some of Mom's dessert creations from the past two weeks.
1. Strawberry Whipped Cream Roll: Mom loves to whip up cakes in the afternoon, and with a fresh supply of strawberries purchased from the West Side Market, what better time than now to use the strawberries before the kids goggle them up. Here, she used the Red, White, and Blue Cake Roll recipe, substituting with only strawberries and homemade whipped cream
2. Great-Grandma Petkovich's Walnut Cookies didn't last very long in the house. With just a few ingredients, and easy preparation, Mom was able to whip these cookies out while the kids were in the pool. To make them even more delicious, she turned a dozen or so into sandwich cookies, spreading homemade strawberry jam between two.
3. Listy – Angel Wings: I always loved when Mom made listy – but it was only for a very special occasion. Our visit didn't warrant such an occasion, but when I spotted some Angel Wings during our visit to Gallucci's, I knew that we just couldn't pass them up. Need I confirm, that they didn't last the afternoon. Click here for our family recipe.
4. Cream Pastry Squares: To me, this dessert is one for a special occasion, so, when I spotted the puff pastry sitting on the cooling racks, I wondered what prompted this dessert. Apparently it was nothing more than a summer visit from the family. What made it even more enjoyable, was that the kids never spotted the cream pastry on the counter, so the adults were able to enjoy an extra piece of the dessert before it was discovered by the kids!
5. Citrus Cutout Cookies: Always ready to dig through her extensive collection of cookie cutters, Mom created these lemon flavored cookies using a Martha Stewart recipes. She then used her mother's diamond cookie cutter, frosted them with  a neon yellow and added crumbled chocolate toffee as an added touch.
6. Dried Apricot-Walnut Bread: This is newer recipe to Mom's arsenal, and one that I'm glad I had the chance to try. At first, I wondered whether any of us would like it, but the dense, fruity flavor suited my morning coffee perfectly. As for the kids, they surprised me and didn't bat an eye when eating it.
7. Apple Fritters: Grandma used to stand over the stove and fry up these delicious fritters for a Sunday afternoon visit. I was pleased when I spotted Mom in the kitchen before the kids did, as I was able to sprinkle a few with cinnamon and sugar and consume them before the smell of the fritters reached the noses of the kids.
8. Poor Man's Strudel: Every home baker should know how to make a strudel, as the versatile recipe lets you fill it with anything you have on hand, from fruit preserves to nuts and cheese. Surprisingly easy to make, this recipe is one that has been in the family for decades.
9. Butter Fudge Brownies: This is a recipe that both my Mom and Aunt made throughout my childhood. It's chocolate flavor, topped with a delicious sugary 'frosting' still stands the test of time decades later. My favorite way to enjoy them is chilled, but warm is just as delightful.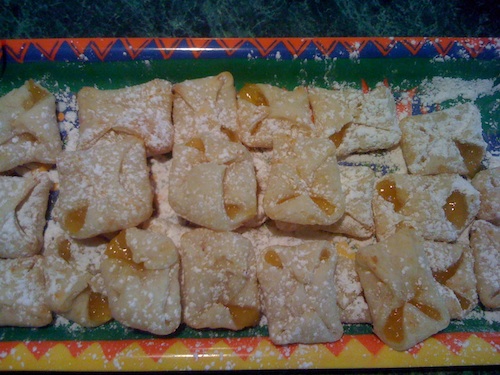 10. Drobni: This fruit pastry has been a standard in our family. Filled with your favorite preserves or even nuts, these small pastry/cookies are hard to resist. Sprinkle them with powdered sugar before eating, and enjoy with your morning coffee or afternoon tea.
We hope you enjoy this week's Ten for Tuesday. Join us every week for our Ten for Tuesday posts, and visit us in between for other tasty posts.

Print Friendly