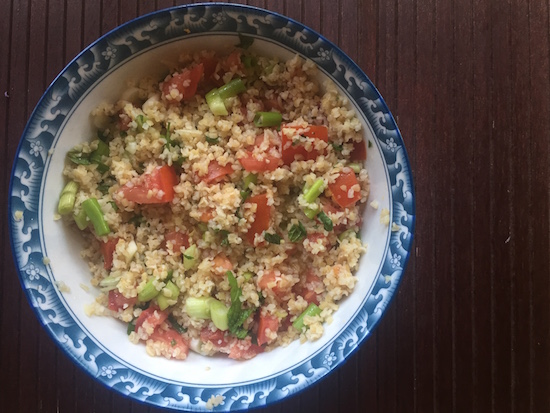 A classic bulgur salad that is made with garlic, parsley, lemon and mint, is perfect for personalizing with cucumber, bell peppers, and even garbanzo beans.
1 cup dry bulgur wheat
1-1/2 cups water, brought to a boil
1-1/2 tsp salt, to taste
1/4 cup lemon juice – fresh squeezed if possible
1/4 cup olive oil
2 medium cloves garlic, crushed
black pepper, to taste
4 scallions, finely minced
1 cup, packed, minced parsley
10 fresh mint leaves, minced.
2 medium tomatoes, diced
Optional adds: red pepper, cucumber, garbanzo beans
Combine bulgur wheat and boiling water in a medium-large bowl. Let stand, covered, until the bulgur is tender, approximately 20-30 minutes.
Thoroughly mix together the salt, lemon juice, olive oil, garlic, pepper, then add to the bulgur wheat. Cover and refrigerate for about 30 minutes.
Before serving, stir in remaining ingredients, and mix. Serve alongside pita bread, top a salad, or pair with a delicious Mediterranean Mezze plate.

Print Friendly