Note: From time to time, something occurs  to trigger memories of my past culinary travels. With our recent move, I unearthed my travel journals and have decided to give them new life on Family Eats.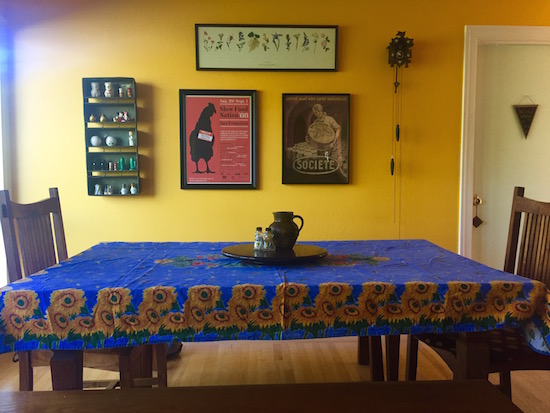 Recently, I reached into the linen closet for a tablecloth. When not choosing for a specific holiday, I make my choice based on my mood. On that day, I felt in a picnic mood, which is why I chose a bright blue cloth, decorated with sunflowers and olives.
It is a tablecloth I picked up in Provence in 1999, a trip spent with business friends traveling from Paris down to Arles, where we enjoyed a few days at a cooking school. Along the way we stopped in Saint-Quentin to tour the Le Creuset factory, followed by Marcigny at the Emile Henry factory, and then to Lyon where the journal entry I share below picks up.
We arrived in Lyon on July 3, and spent the day strolling along the Rhône and Saône Rivers popping into shops, eating, and playing tourist.
The entire trip was magical, filled with lots of laughter, great food, great friends and memories that continue to bring a smile to my face. This tablecloth, purchased in the Lyon market, brought back memories of the trip, which was the year I celebrated the Fourth of July in France.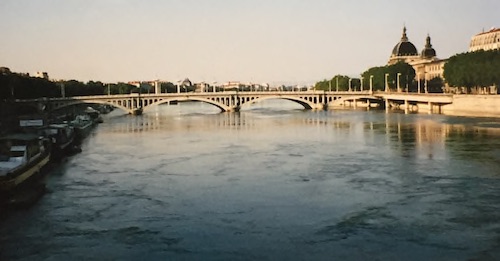 July 4, 1999
A few of us rose early to stroll through Lyon. We took a 2 hour walk, across the rivers, over the bridges, just observing the sites of the town. We walked along the river peering into the barges anchored there and gazed up to the hills at the church we had visited yesterday. Renee, Gayle and Laurine weren't with us for the morning walk, so by 9 a.m., we returned to the hotel to meet up with them. Our game plan for the morning was to shop the market for picnic goodies. We had a car ride ahead of us, with our eventual destination for dinner and hotel was in Saint-Bonnet-le-Froid.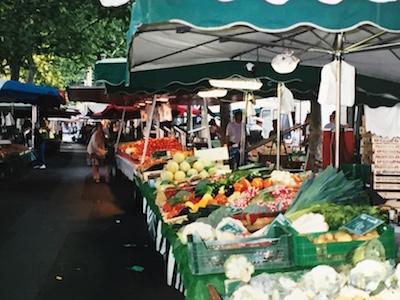 At the market we split into teams. I was paired with Jan, and we were the cheese team. There was also a vegetable team, meat and wine, and bread and fruits. We were instructed to purchase only within our designated category (John received a mild scolding for purchasing some frisee when he wasn't on the vegetable team). Our cheese shopping was exciting because Jan knows a lot about cheese. In her 'past life' she owned a cheese shop called The Wedge. So this morning, she was educational, explaining the cheeses to me as we gathered a mélange of hard, soft, cow and sheep milk cheeses. We certainly had a lot in our bag by the time we were finished at the market. (We would be eating it for the rest of the week).
Once each group was finished at the market, we headed out on the road closer to our destination which would be near the Revol pottery factory. The directions supplied to us were not the best, but we eventually found ourselves near the factory, only to realize that this locale was not where our hotel was located. Jan and Jeff hopped out of the car to ask directions at a restaurant, which coincidentally would be the place we would have lunch the following day. Finally, with directions in hand, we set out towards the hotel and to find a place to eat.
The route was winding, and I started to feel a bit lightheaded. I wasn't sure if I was getting car sick from the winding road, or if it was my hunger. I had had a light breakfast, and it was already after 1. I wanted to eat. In an attempt to get my mind off the hunger, we began to sing Beatles songs with lyrics changed to represent our trip thus far  . . Lavender Fields Forever . . . . But, our efforts soon turned back to things food related as we sang, "We all live in a foie gras terrine." It gave us a good laugh, but made us realize how hungry we really were!
 Finally, Jeff turned off a narrow dirt road and followed it up along a ridge. This is where we found a spot with a great view in the hills near Lalouvesc. We set up a picnic with tons of food – from several different types of bread, to sausages coated in herbs, to foie gras, and of course, our cheese. The wine was just the thing to hit the spot. We gorged ourselves and still had a ton of food left over. It was a sort of Fourth of July celebration – without the fireworks.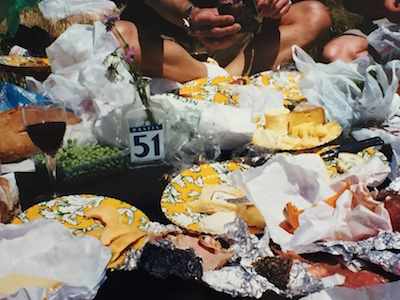 Eventually we found our way to the hotel in Saint Bonnet, Auberge et Clos des Climes where our adventure continues . . .
****
Back in Mill Valley . . . That evening, when we ate our American fare, the French tablecloth continued to elicit memories. My kids know the story, so they now are the ones telling the tale of my Fourth of July picnic in the hills of southern France.
"When can we go?" they ask.
"Soon," I say. "And until then, let's create our own memories with this tablecloth."
Save
Save
Save
Save
Save

Print Friendly