Crazy busy as our lives are, I manage to get homemade meals on the table every evening (with the occasional, opt out).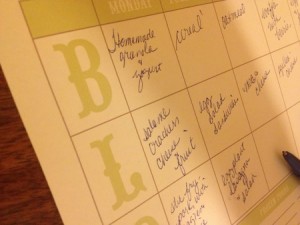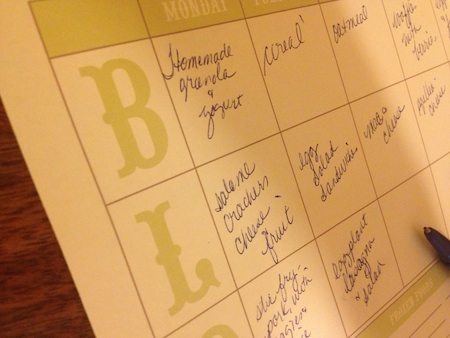 What is essential in ensuring this happens is my meal planning. Part of my weekly ritual, my meal planning gives me the opportunity to shop for all the weekly essentials at one time, while easing the stress of figuring out what to have for dinner every evening. This is especially helpful while I'm in the midst of ensuring everyone is where they need to be in the after-school hours.
Admittedly, even with a homemade meal, we don't always eat dinner together during the week. Addie's late swim practice means she doesn't arrive home until after 7 pm. This, however, gives her the chance to eat with her Dad, when he arrives home from work.
As they sit down, and I'm busying myself with tidying up the kitchen and making sure everyone else has has homework completed, I hear the two of them chatting away.
"How was your day, Daddy?" she asks of him. She then offers up a play-by-play description of her day, including every set she swam at the pool. The other kids pop in and out of the discussion, making it, at some times, a bit of a circus, as they try to capture a bit of Dad's attention before they're all herded off to bed. At times it seems hectic, but at least there is some connection and conversation between dinnertime — even if we don't always eat together.
Then there are the days when mealtime is a bit less harried – Sunday.
A few weeks ago, our Sunday Supper was particularly lively. Not only did we each have something to share with the family, but it was the happenings during the day that made the dinner even more fun.
It was homemade pasta night.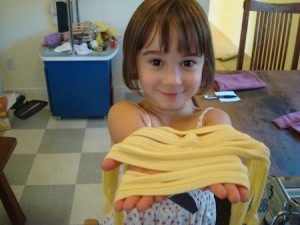 We've been making pasta on and off since receiving a Marcato Atlas 150 for our wedding, nearly 14 years ago. When the kids were old enough, they happily participated in the process, helping crank out strand upon strand of fettucine, cappelini, and pappardelle.
This time, however, we were venturing into new territory – ravioli!
The Marcato Ravioli Tablet, was a recent addition to our kitchen. I was excited about giving it a try – but honestly, less than excited to have a cacophony of "can I helps" in the kitchen with me. My pasta making isn't always perfect — I needed to focus, and get the hang of it myself, before I welcomed a bit of mayhem, and "I want to try," into the kitchen.
In the end, there was too much excitement about the ravioli making, that I couldn't banish everyone from the kitchen. So I took to the Marcato YouTube channel for some inspiration, and found a wonderful collection of videos to choose from, so I quickly got down to making it.
It was an assembly line at our table. The twins took turns cranking out the pasta sheets, while the other helped place the sheets on the form, and place the pork ragu filling inside. Then, came the rolling out of the shapes. Oh, they couldn't wait for dinner.
When dinnertime arrived, the family was abuzz with excitement over how delicious the ravioli would be. During dinner, the conversation was quite lively as they all recounted their own method for making the ravioli. In the end, the kids began questioning each other how many they had eaten, as they were readying to claim those still on the serving platter. With only a few more on the table, Grayson tried to quietly slip two more onto his plate. That brought about screams of "no fair!"
Aside from this minor "food fight," the discussion turned to what we should fill ravioli with next time we made it – cheese, squash, or spinach, all interspersed with a bit of knock knock jokes, updates on test grades, and a rundown of what happened in class this past week.
Sunday dinner is always a fun time to talk about everything that happened during the week, and it appears as if it is also a great time to discuss everyone's methods of cooking the Sunday Supper.
Save
Save
Save

Print Friendly