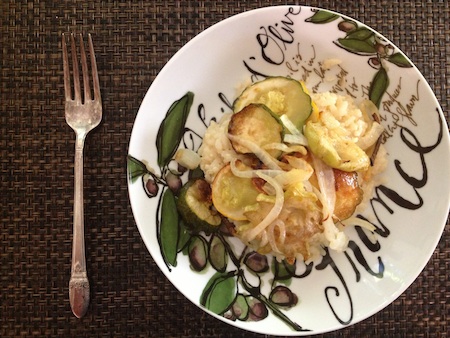 A delicious summer meal, that is easy to make. The tender flesh of summer squash requires only a short cooking time, and offers a delightful flavor that is high in vitamin C and fiber.
4 summer squash
4 zucchini
6 pattypan squash
1 large onion, sliced
¼ bunch fresh thyme sprigs ( 4 sprigs), leaves only
extra virgin olive oil
kosher salt and freshly ground black pepper
Risotto
Extra virgin olive oil
1 bunch fresh sage springs, leaves only
1 medium onion
2 cups Arborio rice
½ 750-milliliter bottle dry white wine
2 quarts reduced-sodium vegetable broth
½ stick unsalted butter, cuts into thirds
1 cup grated Parmigiano-Reggiano cheese
Kosher salt and freshly ground black pepper
Preheat oven to 350 degrees F. Cut squash, zucchini, and pattypan squash into circles and slice onion. Set out on a roasting tray and scatter thyme leaves over the top. Drizzle with olive oil and season with salt and pepper. Roast in preheated oven for 15 to 20 minutes, until golden brown and fragrant.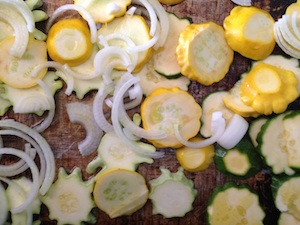 While the vegetables roast, start the risotto. Set a large heavy-based pot over medium heat. Pour a 3-count of oil (about 3 tablespoons) into the pot and fry the sage leaves until they are crispy and crackly. Drain the leaves on paper towels and set aside. Add onion to the pot and sauté until fragrant and slightly translucent. Add rice and cook for 2 to 3 minutes over medium heat as you stir with a wooden spoon. Add the wine; cook until mostly evaporated. Begin adding vegetable broth each time before adding more. Continue to do this until the rice is tender but still has a little bite. (Add water, if necessary, if you use all the vegetable broth before the rice is done). To finish, add butter and Parmigiano-Reggiano.
Source: Dinner at My Place, Tyler Florence, Meredith Books

Print Friendly