This recipe calls for black and red plums, but don't limit yourself to those. We used a mixture of plums, peaches and nectarines, and it disappeared in about 15 minutes. The dessert is just as delicious without using the apricot jam, simply sprinkling the top with a bit of sugar prior to baking. And, when using frozen puff pastry, this recipe is easier to make than it looks. A definite hit all around.
2 tbsp skin on almonds, toasted
2 tbsp sugar, divided
1 tbsp all-purpose flour, plus more for surface
1 sheet frozen puff pastry (preferably Dufour), thawed
1 large egg yolk
1 tbsp heavy cream
5 black plums, pitted and cut into 1/4-inch slices
5 red plums, putted and cut into 1/4-inch slices
1 cup apricot jam, heated until loose and strained
Pulse almonds, 1 tbsp. sugar, and the flour in a food processor until ground into a fine meal.
Roll out puff pastry into a 10-by-14-inch rectangle (1/8-inch thick) on a lightly floured work surface. Using a paring knife, score a 1/2-inch border on all sides. Place pastry on a parchment-lined baking sheet, and freeze until firm, about 30 minutes.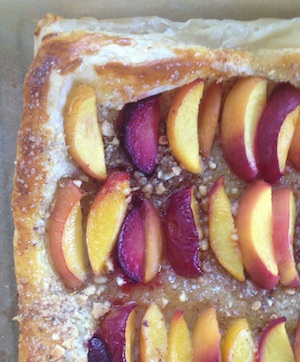 Preheat oven to 375 degrees F. Whisk together egg yolk and cream. Brush border with egg wash, then sprinkle almond mixture evenly over center of pastry. Evenly alternate rows of black and red plum slices. Freeze tart until firm, about 30 minutes.
Sprinkle remaining tablespoon sugar over top, then bake until edges are golden brown, about 40 minutes. Brush plums with warm jam; let cool. Serve warm or at room temperature.
Source: Marcha Stewart Living, July 2012

Print Friendly