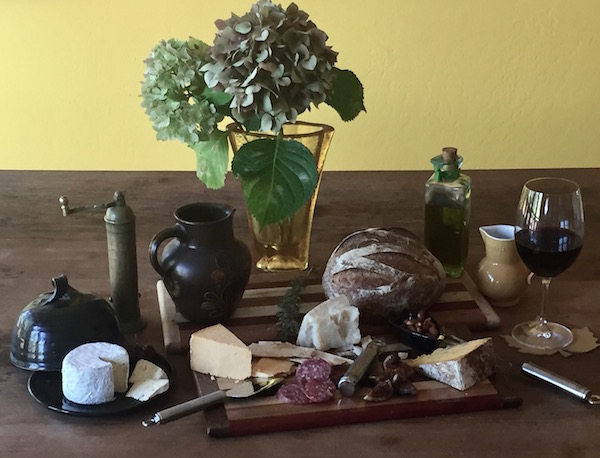 "Wine and cheese are ageless companions, like aspirin and aches, or June and moon,
or good people and noble ventures."
M.F.K. Fisher
All anyone has to do is mention wine and cheese, and my mind begins to wander . . . I find myself with a warm, comforting feeling inside, friends and family gathered around as memories are being made.
Growing up in the age of processed foods, beyond packaged American slices, my big venture with cheese was gouda, wrapped in red wax, which made it look fancy — making me feel as if I was a sophisticated cheese connoisseur at a ripe old age of 10.
My taste for the world of cheese didn't take an adventurous turn until my mid 20s when I found myself visiting some of the world's most famous cheese regions for business. I welcomed the opportunity to visit Parma, Italy and learn about the production of this famous cheese, and the connection between the cows that nibbled on the grass and flowers on the hills overlooking the Po River Valley, and the piquant, slightly salty flavor of Parmigiano-Reggiano.
This experience was only beginning . . .
It wasn't until I visited England that I truly began to allow my taste buds to venture deep into the world of cheese. I credit a visit to with the head of The Stilton Cheese Makers' Association in Leicestershire that brought me to my current level of cheese enjoyment. Arriving at Long Clawson Dairy, I divulged to him that I was not a fan of blue cheese, the taste being too strong for my liking. He smiled and assured me that by the time I left that day, I would be a fan of Stilton.
He was right!
Since then, I've happily indulged in freshly made Ricotta and Robiola Piemonte in Italy, visited the Roquefort Cheese caves in France, even adventured in the bold taste of Limburger.
Cheese is now a part of my life, and when I think of a cheese plate, I'm sometimes overwhelmed when trying to decide what to put on the board that evening. There may be a proper way to create a cheese board, but my favorite way is to head to the store and peruse. As I gaze upon the cheese, my taste buds tingle, remembering all my travels and education into how these cheeses are produced.
Today, it was a delicious Parmigiano-Reggiano, Mrs. Appleby Cheshire from Neals Yard Dairy, Shropshire Colston Basset Blue (also from Neals Yard), and the Mt. Tam Triple Cream from the local Cowgirl Creamery.
****
The Photo Shoot for #Cutthecheese2017
Of all those food photos I have taken, this cheese board was the most fun to create and shoot — perhaps because I knew that this delicious spread was awaiting for me once complete.
Find inspiration: My inspiration was from various still life paintings.
Gather props: A homemade cutting board, figs and flowers from our yard, olive oil from a friend's farm, a water pitcher from my travels in Germany, and cheese slicers and knives from Rösle.
Choose the cheese: Of course, my favorite part, since I would be able to eat this once complete. In fact, Addison arrived home while I was finalizing the presentation. She immediately headed over to the table, thinking it was her after-school snack! It was, eventually, after I took a few more photos!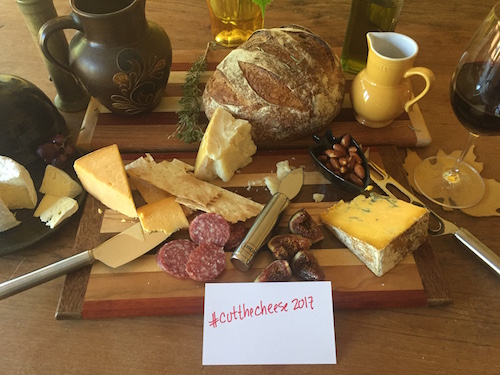 Save

Print Friendly