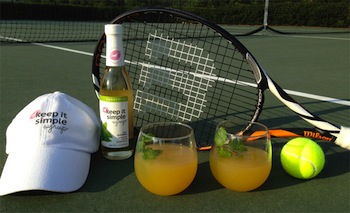 For a late summer refresher, wind down with this thirst-quenching recipe from KISS – Keep it Simple Syrup.
(SERVES 8)
2 cups Kiss Sour Mix (recipe below)
1 cup apricot nectar
1-1/2 cups (12 oz.) gin
3/4 cup Prosecco or champagne
Fresh mint sprigs for garnishing

Kiss Sour Mix (makes 2 cups)
1 cup freshly-squeezed and strained lemon juice
1/4 cup freshly-squeezed and strained lime juice
3/4 cup Keep It Simple Syrup
In a pitcher, combine the Kiss Sour Mix, apricot nectar, and gin. Serve well-chilled or over ice. Top each glass with a few splashes of Prosecco and garnish with fresh mint.
For more cocktail, beverage, and dessert recipes:
Visit Keep It Simple Syrup
350ml & 700ml bottles are available for purchase online
(and several retail locations!)
Each 3-bottle set qualifies for a $5 shipping credit

Print Friendly