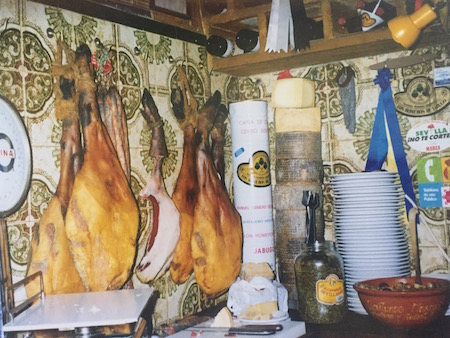 It has been a while since I traveled to Spain, but the memory of my visit still remains with me – in my mind, and on my plate.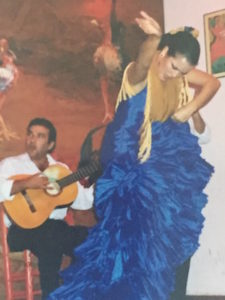 Seville is a city that creeps up on you. Quiet and unassuming, then exploding with life. Museums, people, culture, flamenco all tumble down on you, almost too fast to absorb.
The food is a perfect complement to the excitement that surrounds you – the gazpacho, jamon iberico, olives, alfajores . . . And of course, there are also the wines.
Spain is a country known for wine, and here in Andalusia, the main wine varieties that are used in making fortified wines are Palomino, Pedro, Ximénez an Moscatel.
In particular, the Pedro Ximénez grapes are pale white, and as a drinking sherry, Pedro Ximénez is jammy and sweet, best served as a dessert wine. But, turn it into vinegar and the acidity pairs with a sweetness to produce an intense flavor that is used to transform gazpacho, meat glazes, dressings and more.
It is not a mistake that Spanish wine vinegars are the result of careful fermentation of the wines, which produce intense aroma, and a broad spectrum of flavors. In Spain, vinegars are added to salad, gazpachos, sauces, pickles, and marinades.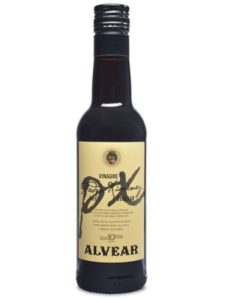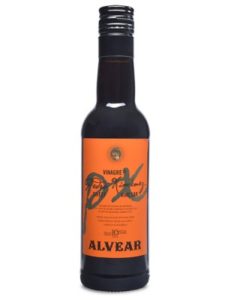 Lately I've been using the Pedro Ximénez Sweet and Dry Vinegars from K Keller Foodways. In particular, the Dry Vinegar is now my go-to for my homemade salad dressings. It was also our choice for de-glazing the pan for our New Year's Day pork dinner!
The vinegars start with Alvear's award-winning dry and sweet wines of Montilla, which are made exclusively with the Pedro Ximénez grape. Both the Dry and Sweet Vinegars are aged for 12 years using the solera process in which there is a constant blending of the younger and older vinegars.
The solera technique involves aging the vinegars in rows of barrels that are stacked on top of each other in pyramid fashion.
"The bottom row, or solera, contains the oldest vinegar, from which a portion is taken and bottled. As this happens, the same amount of vinegar from each of the higher casks, or criaderas, is moved to the barrel below it, and new vinegar is added to the barrels in the top row."
The result is a vinegar with a superb quality and flavor unlike any other Sherry vinegar.
Grab yourself some of this delicious vinegar and start experimenting. Head on over to K Keller Foodways for Pedro Ximénez vinegars.
Save
Save
Save

Print Friendly