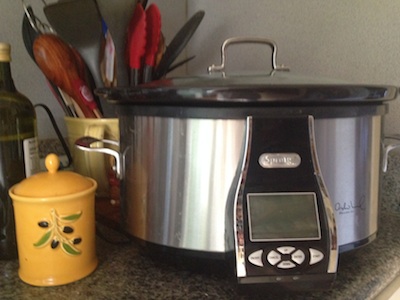 You call it a 'crock pot,' I call it a 'slow cooker.' Either way, we're still talking the same language. And, this season, when thoughts are on roasting pans, carving knives and pie plates, the slow cooker is definitely a must-use for the holiday.
Cooking over low heat for a long time is an ancient cooking method that once took place underground. The effort is simple enough, combine ingredients, then place in cooking vessel, and move on to something else. The slow cooker requires little tending to; your effort is simply in combining the ingredients.
The Crock-Pot® brand was introduced in 1971, and continues to be the number one selling slow cooker brand in the United States. In fact, 86 percent of American households own one, according to Jarden Corp., which now owns Rival Co., and the Crock-Pot brand
Today, slow cooking continues to grow in popularity, because slow cooking allows consumers to multi-task and cook meals while they are away from home – and with minimal preparation.
The benefits of using a low cooker are many. The longer cooking time tenderizes less-expensive cuts of meat, stretching your food budget. The process makes foods more flavorful, giving the time for flavors to emerge and blend together.
And, while those flavors are blending together, you can relax, wrap some presents, or enjoy a hot chocolate with the kids.
Slow cookers also allow for versatility and experimentation by allowing you to cook a variety of foods in one pot. And, they're not just for cooking a pot of chili or a pot roast, slow cookers can cook anything from breakfast to dessert.
But, perhaps most importantly during holiday times, is that slow cookers provide a third hand for party preparation. The slow cooker frees up the oven for food that needs higher heat. Plus, a slow cooker can be left alone while you're tending to food in pans on the stove. Slow cookers are perfect for side dishes, when there are not enough burners, ovens to go around, and they keep foods and beverages warm during parties.
Slow cooking in a crock pot is shedding it's 'homey' appeal, and broadening its reach to those who enjoy cooking form scratch, those seeking healthful recipes, and just about anyone who might like the convenience.
Websites and cookbooks offer tons of ideas and inspiration for recipes – beyond the stew and chili recipes. Now, recipes such as risotto and Mexican Pot Roast Tacos are commonplace.
Here are a few tips to consider when slow cooking:
To best enjoy the flavor and texture of meats, brown the roast in a skillet before slow cooking.
Dried herbs are best (not fresh) in a slow cooker. If you are planning to use fresh herbs, add them near the end of the cooking time.
Expand your slow cooker repertoire and use it to make risotto, polenta, and even dessert.
The slow cooker can be used to keep apple cider, mashed potatoes or hot dips warm and delicious during parties.
For added convenience, and at-your-fingertip recipes, the Crock-Pot brand also announced a FREE, iPhone application, called the Crock-Pot® Slow Cooker Recipe Finder, which provides modern consumers with a convenient resource for searching recipes, customizing shopping lists and slow cooking hints and tips- on the go!  The application can be downloaded from www.Crock-Pot.com.
This holiday season, pull out the slow cooker and get cooking. It is a home-chef's best friend.
Enjoy the following Main Dish, Sids & Dessert recipes this holiday season:
Main Dishes
Side Dishes
Desserts

Print Friendly