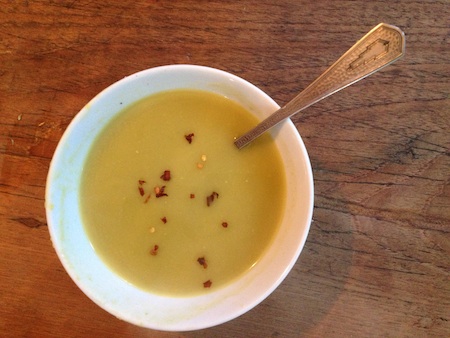 The perfect soup for warming up on a cool evening. A great meal to whip up when the cupboards are bare, as just a few ingredients needed. Pair with a salad and homemade grissini, and you'll be happy you decided to enjoy an old favorite. Top with red pepper flakes for an added flavor boost.
1 tbsp olive oil
2 cups yellow onions, chopped
Salt to taste
Freshly ground black pepper
1 tbsp chopped garlic
1 bay leaf
1 pound dried green split peas 8 cups chicken broth
1 cup milk
Chop onions and sauté in olive oil in a soup pot over medium heat. Season the onions with salt and pepper and then sauté for 2-3 minutes. Add the garlic, bay leaf and split peas and cook for a minute. Add broth and bring to a boil. Once boiling, reduce to medium and simmer for about 45 minutes, or until peas are tender. Once tender, remove from heat and remove the bay leaf. Once slightly cooled, add the milk and puree the soup using a hand-held immersion blender. Heat to serving temperature and serve.

Print Friendly