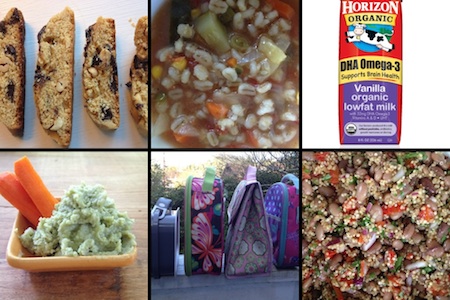 Looking for inspiration for school lunches – or, for packing your own lunch for work? Family Eats has compiled a list of some of our favorite recipes that we'll be incorporating into lunchtime this year.
Do you have any favorite lunchtime recipes? Please send them to us, we'll add them to the list!
And, for more information about how to make school lunches  healthy, tasty, and filled with brain power, check out School Lunches: Friend or Foe?
Wraps and Sandwiches
Pita Sandwiches Stuffed with Chopped Salad and Cheese
Tortilla Wraps with Cabbage and Asian Dressing
Salads
Bulgur Salad with Feta and Pine Nuts
Soup and Other Hot Lunches
Stir Fry Five Spice Lettuce Cups – a great lunch made from leftovers
Snacks
Oatmeal Coconut Raspberry Bars
Dairy
Cheese and crackers
Yogurt topped with granola, dried fruit, chocolate chips
Single serve milk

Print Friendly