The Montefalco Consortium, which oversees the historic Montefalco wine producing region of Italy, located in Umbria, is celebrating the 5th annual Sagrantino Month in November. The promotion was created to educate consumers, press and the trade.
Earlier in the week, I had the opportunity to learn more about Montefalco, a region in Umbria regarded for distinctive wine making.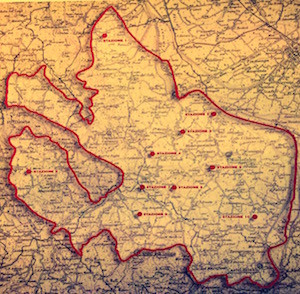 The quality of wines from this region is attributed to the long history of perfecting the art of wine making. The name "Sagrantino' comes from the word Sacrament, as the grape was cultivated by monks during medieval times, who produced a sweet wine for religious rites. The Sagrantino variety thrives only on the hills of Monefalco and its surrounding area, where the indigenous grape achieves its highest expression. Montefalco white varieties include Grechetto and Trebbiano Spoletino, which are also indigenous to Umbria.
One of the highlights of the luncheon was discovering the Montefalco Rosso DOC. In Montefalco, the Sangiovese grape is traditionally widespread, as it is in many other wine areas in Central Italy. From this grape, Montefalco Rosso takes it origin in combination with the Sagrantino grape, which gives the structure and the features typical of the area. It is a flexible wine, suitable to pair with first courses, roasted and grilled meats and poultry.
Nine wineries are participating in Sagrantino Month: Antonelli San Marco, Arnaldo Caprai, Broccatelli Galli, Colpetrone, Perticaia, Scacciadiavoli, Tabarrini, Tenuta Castelbuono Lunelli, Terre de la Custodia.
Beginning on November 11th, consumer tastings will be held at two Eataly wine shop locations, the Flatiron district in New York City, and in Chicago. A full consumer tasting schedule is available online at Eataly NYC Flatiron and Eataly Chicago.
To learn more about the wines of Montefalco, visit the Montefalco Consortium website, and follow them on Facebook.
Save
Save

Print Friendly