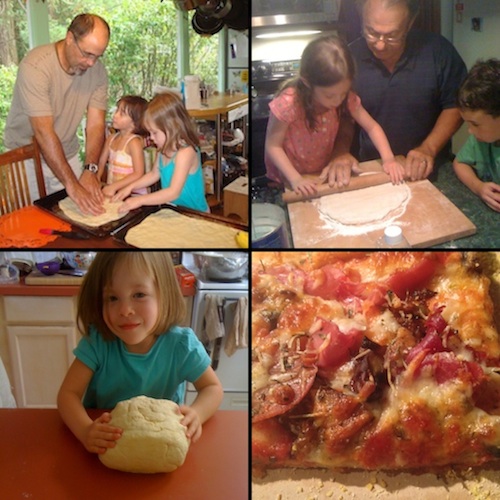 Saturday Night Pizza is a tradition at our house. No, we don't dial up for delivery, instead, we gather in the kitchen, make a couple of pizzas and then settle in for a family movie. It's a simple tradition, one that hasn't changed much in the past several years. We even maintain the tradition when we are out on the road visiting the family.
Aside from the time we spend together, I like the excitement I see from the kids, especially when they help prepare the pizza. But lately, we've strayed a bit from the 'togetherness in the kitchen,' and I have found that I'm the one making the pizza in between our errands and Saturday adventures.
This past weekend, I was reminded how much the kids look forward to it. Early in the morning, after our traditional pancake or waffle Saturday breakfast, they were talking about pizza night. "Mommy, can I help you make the pizza tonight?" asked Addie. "Me too! Can I help?" added Keely.
By the time pizza-making came around, they were still interested in helping. I had already made the dough (our Rosemary's pizza dough recipe is here), and I was handing off the pizza preparation to Greg.
The girls put on their aprons and dragged a stepstool to the counter.
Over the next 20 minutes, Greg, Addison and Keely, rolled out the dough, topped the pizza, and slid them into the oven to bake. At times, the girls fought over what they were going to do, but Greg mediated and assured each that there would be something for them to do.
As they neared the end of preparation, they announced to the others that they should commence choosing the movie. They cleaned up and pulled out the plates and cups, grabbed their blankets and pillows and readied for the movie to start and the pizza to be 'delivered' from the kitchen.
It is a Saturday night tradition that we all enjoy. And, I know some day down the road, we'll all be tempted to do something else on Saturday evening. But, I hope that as the kids grow older, at least once a month we reconnect with each other for Pizza and Movie night. Until then, I'll enjoy this weekend tradition and the time spent with my family.
If you're looking to start a similar tradition, try our collection of pizza recipes:
 Rosemary's Classic Pizza Dough
Pizza with Charred Cherry Tomatoes and Pesto

Print Friendly