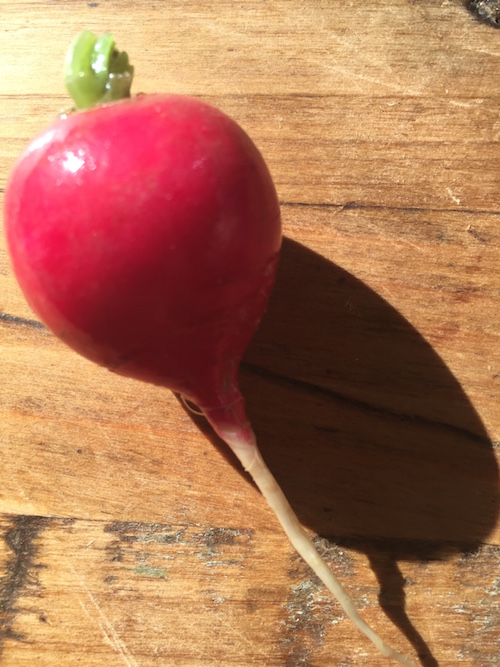 Radishes are great with a little butter and salt. They are easy to pickle. They add color and pep to your salads and sandwiches. Slice them thinly and bake into chips. Roast them whole and serve with your next meal. Saute them, or add them to your next stir fry. Whichever way you serve them, they are sure to be enjoyed. Aside from dipping raw radishes in salt, here is one of our favorite ways to prepare this crisp, peppery-flavored root vegetable.
1 bunch red radishes, green ends trimmed and reserved
1/2 Tbsp olive oil
1 Tbsp butter
1/2 tsp lemon juice
salt to taste
Preheat the oven to 450 degrees F. Thoroughly rinse the radishes and their green tops. Chop the green part and set aside. Cut off the bottom of the radishes and discard.
Slice the radishes vertically in half (from top to bottom). Place the sliced radishes in a baking pan and pour the tablespoon olive oil over the top. Mix the radishes so the olive oil gets distributed. Season with salt. Roast for 20 minutes or until radishes are golden brown, stirring occasionally.
Melt butter over medium heat in a small saucepan. Swirl the pan so the butter browns, but doesn't burn. Once beginning to brown, remove from heat. Drizzle over the roasted radishes and garnish with the chopped radish greens. Squeeze some fresh lemon juice over the top. Season with salt to taste.
Serves: 2
Source: farmfreshtoyou.com

Print Friendly