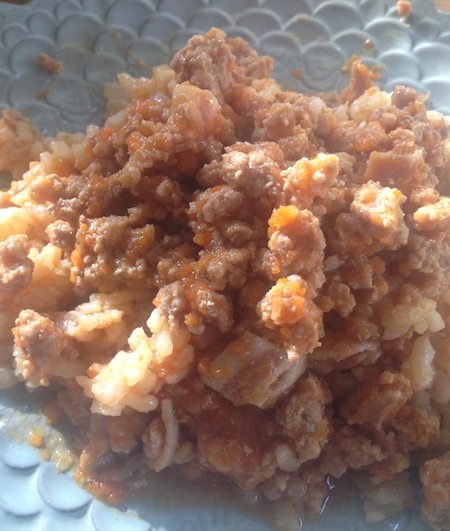 This delicious and warming pork ragu pairs perfectly on top of risotto. Ideal for a winter's eve with the family, or for enjoying after a day on the slopes. Heck, it's so delicious, we even enjoy it in the summer!
For the Pork Ragu
1 tbsp unsalted butter
2 tbsp olive oil
1/3 cup finely minced yellow onion
1/3 cup finely minced carrot
1/3 cup finely minced celery
½ lb lean ground pork
2 ounces pancetta, finely minced
2 tbsp tomato paste mixed with 2 cups low-sodium chicken broth
salt and freshly ground pepper to taste
2 tbsp milk
For the Risotto
2 cups low-sodium chicken broth
3 tbsp unsalted butter
2 cups Arborio rice
½ cup dry white wine
½ cup freshly grated Parmigiano-Reggiano cheese
Prepare the ragu: Heat the butter and oil in a medium saucepan over medium heat. Add the onion, carrot and celery and cook, stirring until the vegetables are lightly golden and soft, 5 to 6 minutes. Add the pork and pancetta. Cook stirring to break up the meat with a large spoon, until the meat loses its raw color, 4 to 5 minutes. Add the tomato paste mixture and season with salt and pepper. Cook, uncovered, over low heat for about 1 hour, stirring the sauce a few times. Add the milk and simmer 5 minutes longer. At this point the sauce should have a thick consistency. Set aside until ready to use. (Makes approximately 2 cups sauce.)
Prepare the risotto:
Heat the broth in a medium saucepan and keep warm over low heat. Melt the butter in a large skillet over medium heat. When the butter foams, add the rice and stir quickly until it is well coated with the butter, 1 to 2 minutes. Add the wine and stir until it is almost all reduced. Now begin adding the hot broth ½ cup or so at a time or just enough to barely cover the rice. Cook, stirring, until the broth has been absorbed almost completely. Continue cooking and stirring the rice in this manner, adding broth a little at a time for 12 to 13 minutes.
When the last addition of broth has been absorbed and the rice looks somewhat dry, add about one third of the sauce. Stir for a minute or two until the sauce has been absorbed. Keep cooking the rice, adding the sauce a little at a time, until all sauce has been used up, about 5 minutes. Add a bit of additional broth if rice seems too dry. Stir 1/3 cup of the Parmigiano into the rice and keep stirring until the cheese is melted and the rice has a moist , creamy consistency. Taste, adjust the seasoning, and serve with a sprinkle of additionally Parmigiano if desired.
Serves: 6-8
Source: Italy al Dente, Biba Caggiano, William Morrow and Company, Inc.

Print Friendly