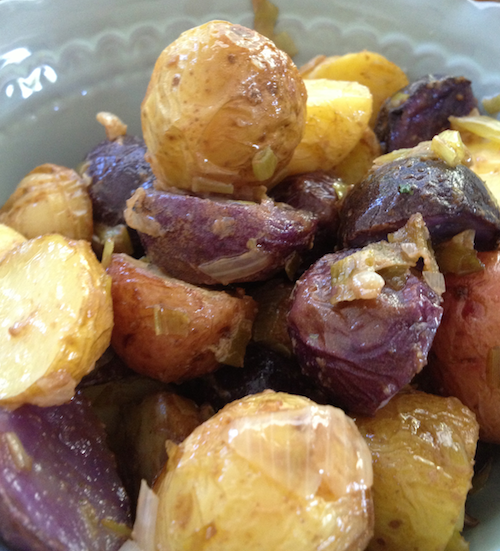 Potato salad is often considered the side dish at picnics and barbecues, accompanying roasts, hot dogs, burgers and other summertime. Me, I like potato salad whenever I can get it – at a summertime picnic, or even in the deep cold of December, which is why I jumped at the chance last year to participate in Reser's "America's Best Potato Salad Challenge."
I created the delicious Paella-inspired Potato Salad recipe, that incorporated Mulay's chorizo sausage, red peppers, onions and saffron. I had a great time creating my original recipe, and even though I didn't win the contest, the recipe was a winner with the family. We continue to enjoy, even when it isn't picnic season.
Well, the contest is back for the second year and potato salad lovers are invited to submit their original recipes featuring this potassium-packed vegetable. The top nine contest winners will be invited to compete in the America's Best Potato Salad Championship in Las Vegas at the World Food Championships and have a chance to win the $10,000 grand prize.
"People are passionate about potatoes!" says Lacey Werner, associate category manager for Reser's. "Last year, more than 600 home cooks across the country sent us some really creative takes on this picnic and BBQ favorite. We can't wait to see what people will whip up this year."  Werner adds, "We're also inviting contestants to submit a photo and share any fun or interesting stories behind their recipe. We'd love to know if it has been a closely guarded family secret that's been handed down for generations or maybe it's an entirely new take on a classic side dish."
Recipes will be evaluated based on appearance, taste and originality. You are now invited to go to www.resers.com/potatosaladcontest  to submit your recipe and find detailed contest information.
(And, don't forget to enter the giveaway for a $75 gift card at the end of this article)
Aside from accolades for your delicious recipes, the contest prizes include:
·         Top 20 winners will be featured in Reser's "America's Best Potato Salad" digital cookbook.
·         Top 9 winners will each receive $1,000 plus a $1,000 travel stipend to compete in the America's Best Potato Salad Championship in Las Vegas at the World Food Championships  (Nov. 7-10).
·         Top 4 winners will receive cash prizes ranging from $200-$3,000
·         Grand prize winner will receive $10,000.
*** Be sure to submit your recipe by July 12, 2013 (5 p.m. PDT) ***
We thought we'd give it another try this year – and came up with this delicious Spring Garlic Potato Salad. Let us know what you think!
Spring Garlic Potato Salad
2 lbs. red white and blue potatoes (or fingerling potatoes)
½ lb green/spring garlic, chopped (using bulb and most of the green ends)
3 tbsp Dijon mustard
2 tbsp balsamic vinegar
scant ¼ cup olive oil
½ tsp salt
Grated Parmigianno Reggiano to taste (optional)
Cut potatoes in half then boil potatoes in lightly salted water until they loose their firmness. (Don't boil until super-soft). Drain and place in roasting pan. Coat with olive oil and roast in 450 degree F oven until crisp.
Meanwhile, sauté green garlic in butter and olive oil until tender, (5-8 minutes).
Mix mustard, balsamic vinegar and olive oil in small bowl, then add salt. Add spring garlic and mix to combine.
Once potatoes are crisp, transfer to serving bowl and coat with spring garlic mixture. Once combined, add more salt to taste, then sprinkle with cheese if desired.
Serve warm or cold.
** We have a winner!!! Natalie V has been chosen to receive the $75 gift card provided by Reser's.
Thanks to all who entered!

Print Friendly