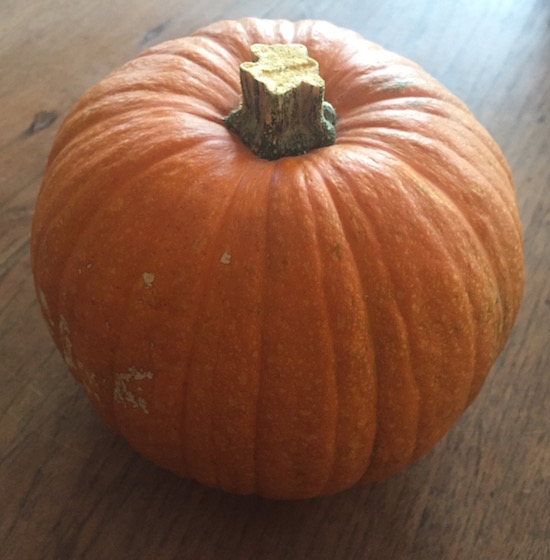 Sugar pie pumpkins are also known as pie pumpkins or sugar pumpkins. Don't just leave them for decorations, sugar pie pumpkins are well suited for cooking. They have a more thick and dense flesh than jack-o-lantern stile pumpkins. A bit sweeter than other pumpkins, they are low in calories and fat, and provide a wealth of vitamins.
2 Sugar Pie pumpkins
1/2 onion, sliced
2-1/4 cups chicken or vegetable stock
1/2 Tbsp oil
1/4 lb. plus 1 Tbsp butter
1/2 bunch sage, reserving a dozen leaves
1 Tbsp pumpkin pie spice
salt to taste
1/4 cup mascarpone cheese
Preheat the oven to 350 degrees F. Over medium heat, heat oil in a large stockpot, add onions and bring temperature down to medium-low to sweat onions until translucent. Meanwhile, cut pumpkins in half and remove seeds.
Place sage leaves in each pumpkin half and place on a baking sheet, skin side down. Brush with 1/2 Tbsp melted butter and roast for 45 minutes. When the pumpkins are softened and can be pierced with a fork, remove from oven and peel skin from pumpkins.
Combine pumpkin with remaining ingredients into a stock pot, except butter with onion.s Simmer for 1/2 hour. Remove from heat and add mixture to a blender in batches, incrementally adding butter and onions. Adjust seasoning to taste.
In a saucepan, melt 1 tbsp. reserved butter and add reserved sage leaves. Saute until lightly browned. Serve soup with a dollop of mascarpone, fried sage leaves and a whirl of olive oil if desired.
Serves: 3-4
Source: www.foodcrush.com

Print Friendly