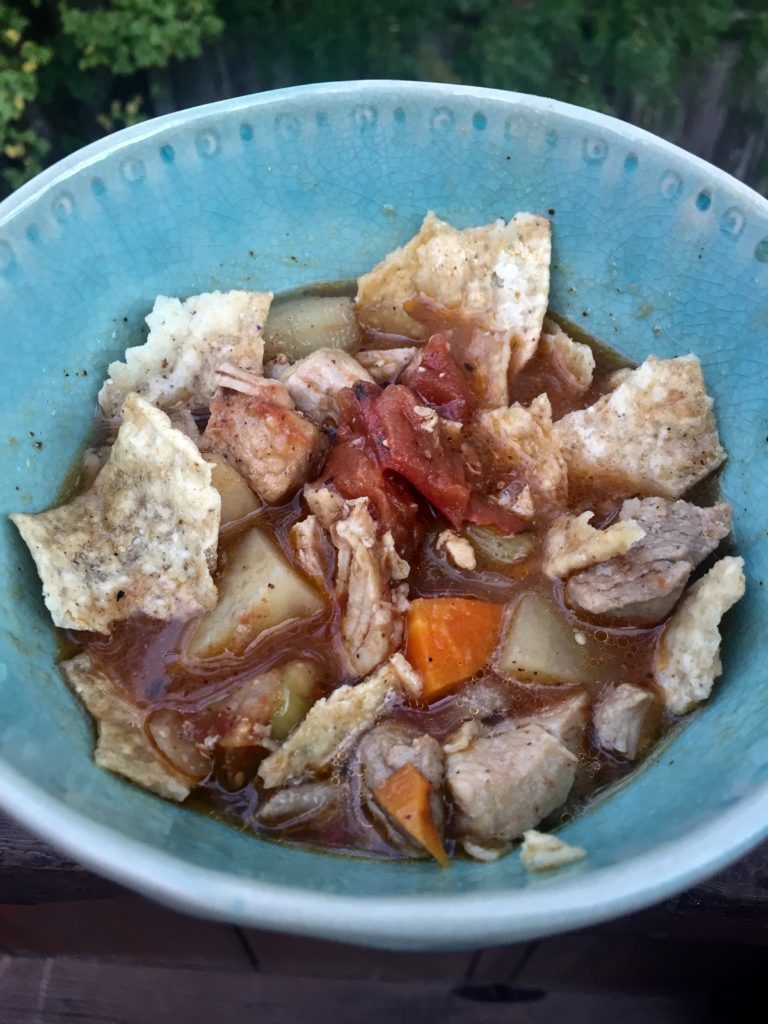 This pork stew is complemented with warm spices to create a flavor that will warm you from the inside, out.
2 Tbsp vegetable oil
1-1/2 lbs. boneless pork loin, cut into 3-inch chunks
salt and freshly ground pepper
2 large celery ribs, finely diced
1 small red onion, finely diced
1 Anaheim chile, seeded and finely diced
2 garlic cloves, minced
2 tsp mild chile powder
1 Tbsp ground cumin
pinch of dried oregano
2 cups chicken stock or low sodium broth
1 cup 1/2-inch diced carrots
two, 6-ounce russet potatoes, peeled and cut into 1-inch dice
1, 28-ounce can diced tomatoes
1 lb. tomatillos, husked, rinsed and cut into 1-inch dice
Hot sauce
Chopped cilantro, for garnish
Corn tortilla chips, for serving
In a medium casserole or Dutch oven, heat the vegetable oil. Season the pork chunks with salt and pepper and cook over high heat until browned on 2 sides, about 2 minutes per side. Add the celery and onion and cook over moderate heat, stirring occasionally until softened, about 7 minutes. Add the diced chile, garlic, chile powder, cumin and oregano and cook, stirring frequently, until fragrant, about 3 minutes. Add the chicken stock and bring to a boil. Add the carrots, potatoes, tomatoes and tomatillos, cover and simmer over low heat until the pork is cooked through, about 25 minutes.
Transfer the pork to a plate and shred with 2 forks. Meanwhile, simmer the stew over moderate heat until thickened, about 10 minutes. Stir the shredded pork into the stew and season with salt, pepper and hot sauce. Ladle the stew into wide, deep bowls, garnish with chipped cilantro and serve with a few tortilla chips
Can be refrigerated overnight, reheat gently.
Wine: intense, spicy Syrah
Source: Food & Wine Annual Cookbook, 2008

Print Friendly