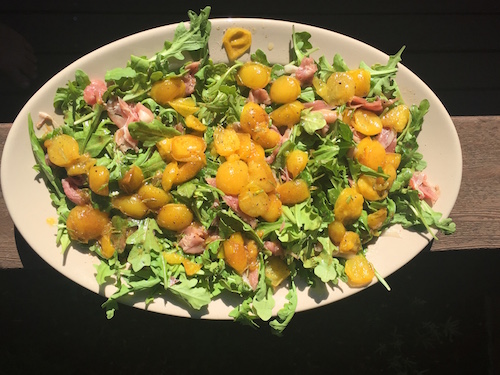 We're up to our necks in plums right now! Sweet and full of flavor, we just can't let these delicious yellow plums go to waste! Beyond tarts and jam, we enjoy them in salads. This recipe is sure to please a crowd.
1 lb small plums (about 8)
1/2 tsp salt
1/2 tsp fresh pepper
1 Tbsp thyme leaves
2 Tbsp olive oil
scant 1/2 cup dry white wine
2 Tbsp balsamic Vinegar
1 bunch arugula
1/2 lb thin sliced proscuitto
Slice plums in half and remove pits. Place them in a bowl with salt, pepper and thyme.
Heat the olive oil in a skillet (medium high). Add plums cut side down and cook for 5 minutes to help release the juices. Once the juices begin to appear, add the wine and continue cooking to reduce the wine. **Don't overcook, the plums should still hold together.
Add the balsamic vinegar during the final 30 seconds of cooking.
Place the arugula on a platter and drape the sliced proscuitto over it.
Spoon plums on top with sauce and serve.

Print Friendly