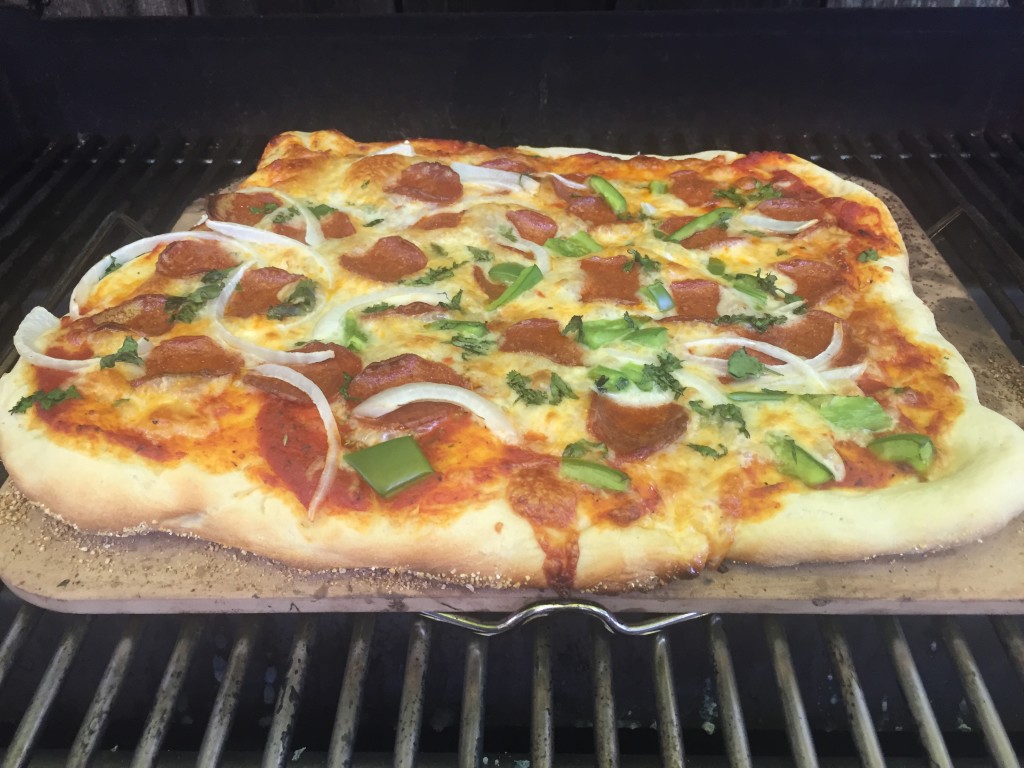 Pizza night is a family tradition we enjoy nearly every Saturday eve. In fact, when alternate Saturday evening plans keep us from our family pizza night tradition, the kids are quick to complain.
Some evenings we are more adventurous than others, and most evenings, the kids are in the kitchen helping us prepare the pizza for the oven.
Looking to change things up once in a while, we've been turning to the grill for enjoying our pizza-making. It isn't hard to do, but you do need to get a hang of it.
Back when we first tried our hand at cooking pizza on the grill, we turned out a messy, folded pizza with half the ingredients down in the grill. It didn't take long for us to perfect our pizza-on-the-grill method, especially when we used our pizza stones.
Although you can grill the pizza directly on the grates, we prefer using a pizza stone. For us, it provides us with just the right amount of charred, grilled flavor, and cooks it evenly (without hot spots) and quickly. A pizza stone is a cooking surface made of ceramic or stone, providing a baking surface that somewhat mimics the inside of a wood-burning oven by evenly dispersing heat evenly over a surface to create a crispy, charred crust. (And, you can also use the pizza stone in the oven for great results, too)
Preheat!
Whether you are baking in the oven or on the grill, it is important to heat the pizza stone prior to using. If baking in the oven, place the stone on the lowest rack and turn the oven to the highest temperature, and heat for approximately one hour.
If making on the grill, preheat the stone in the grill on medium, for about 30 minutes. Don't forget to close the top.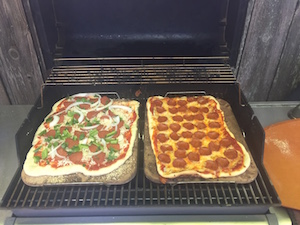 Season!
Some pizza stones benefit from seasoning to create a tighter seal — and crisper crust. Simply coat lightly with a vegetable oil before using. The more you season, the better the seal.
To clean a seasoned stone, don't use soap, otherwise you'll need to re-season. Instead, wet the stone when it is still hot and use a grill brush to clean.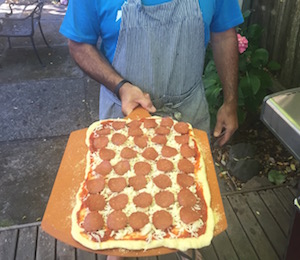 Use a Pizza Peel!
This is an essential kitchen gadget for making pizza on a stone, as it makes the transfer of pizza easy. We lightly sprinkle the peel with cornmeal for easy transferring to the stone once hot, also making it easier to remove from grill for serving.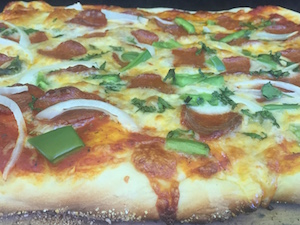 Enjoy!
Transfer the pizza to a cutting surface, grab yourself a pizza cutter and serve. You'll quickly master the technique of using a pizza stone, and never turn back — especially because the stone can also be used in the oven.
Our Favorite Pizza Dough Recipes:
Thick Crust
Chewy Crust
Thin Crust
Our favorite toppings
Different Options
Summer Harvest Pizza made with lavash, a soft, unleavened flatbread
Save
Save
Save

Print Friendly