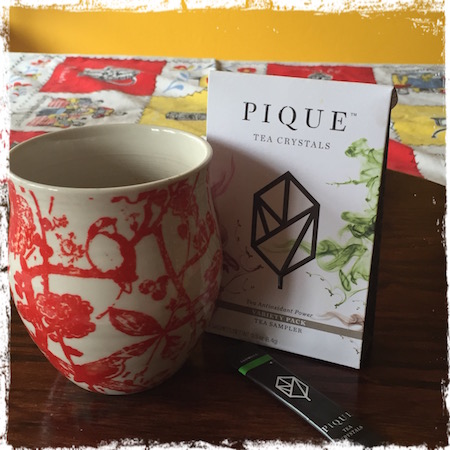 If you ever catch a glimpse of me in the grocery store, you'll know that I'm a fast mover. I come with my list, which I don't stray from, and get down to business immediately. I don't take the time to chit chat, read labels, or partake in the sampling of the day. I'm on a mission, and I want to complete the mission in under 30 minutes.
Yet, the other day at Whole Foods, there was something about the sampling that made me stop – in fact, it piqued my interest.
It was Simon Cheng, the founder of Pique Tea, and what grabbed my attention was that the tea was prepared using tea crystals, which were packaged in single serve sachets.
The company's mission is "to unlock the power of tea for everyone, everywhere, without compromise." And, what they have done is brought innovation to an everyday ritual.  The  company brochure sums it up: "Not the kind of tea burdened with preparation rules and pretense – but tea the way it should be. Pure. Rich. And perfectly brewed in an instant."
I inquired about the tea inside that thin little sachet. And Simon assured me that they work with trusted tea farmers in India, China and Sri Lanka to produce the highest quality organic leaves. From there, a proprietary slow-brew process extracts the flavor, aroma and nutrients from the leaves. Once the perfect brew is achieved, the whole leaves are removed and the tea is distilled into pure tea crystals.
I'm not a tea snob, but I do know a bit about tea, so I was intrigued with what was sitting there on the table. I know the benefits in the cup of brewing using whole tea leaves, allowing them to unfurl during the steeping process, in order to achieve a perfect cup.
Therefore, I was skeptical of the sachet, which reminded me of Starbucks' Via instant coffee (I am not a fan). Could this stack up to brewing using loose leaf teas? I had to to try.
I chose the Sencha, and was was impressed with its rich flavor in the cup. In fact, I was  so impressed that I purchased a box to bring home and enjoy.
I still enjoy the ritual of brewing my own loose leaf teas, but I'm sure that Pique Tea will be part of my travel, camping, and other on-the-go activities, when I want a great tasting cup of tea, but just don't have the time.
Available in Green (Sencha, Mint Sencha, Jasmine) and Black (earl Grey and English Breakfast) varieties, as well as a variety pack.
Pique Tea can be purchased online or at Whole Foods stores.

Print Friendly