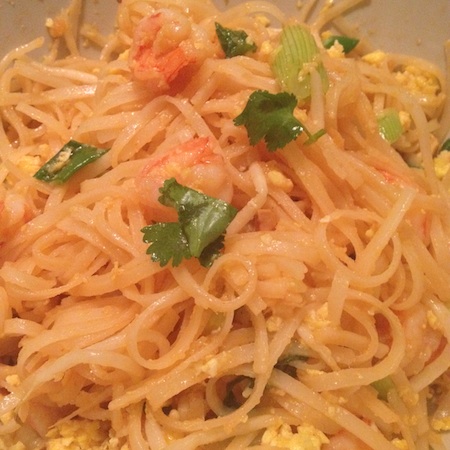 One of the most popular noodle dishes in Thailand, and one that evokes memories of us traveling to the country. You can make it with chicken or shrimp, or a combination of both. Best when you use rice noodles that are about 1/4-inch wide.
Serves 3-4
½ lb wide, flat rice noodles, medium or large width
12 large shrimp (21/30), shelled and deveined
½ lb skinless, boneless chicken breast, thinly sliced
2 tsp cornstarch
5 tbsp fish sauce
3 tbsp freshly squeezed lime juice
1 tbsp ketchup
4 tbsp sugar
1 tsp crushed red pepper, optional
4 tbsp canola oil
2 tbsp minced garlic
2 large eggs, beaten
2 ½ cups fresh bean sprouts
3 scallions, bulbs split and cut into 1-inch pieces
¼ cup unsalted dry-roasted peanuts, chopped
cilantro sprigs for garnish (optional)
½ lime, cut into wedges
Soak the noodles in hot water for about 15 minutes or until soft. Drain. In a medium mixing bowl, mix the shrimp and chicken with cornstarch. In a small bowl, mix together the fish sauce, lime juice, ketchup, sugar, and red pepper, if using. Astir until the sugar is dissolved.
In a wok or stir-fry pan, heat 2 tablespoons of the oil of medium-high heat until hot, but not smoking. Add the garlic and stir a few times until it sizzles; do not allow the garlic to brown. Stir up the shrimp and chicken mixture and add to the pan, stirring constantly until no pink remains in the chicken, about 3 minutes. Add the fish sauce mixture and stir until mixture coms to a boil. Add the softened rice noodles and stir for about 2 minutes or until the liquid is almost completely absorbed. Remove the noodles to a platter and set aside.
Add the remaining 2 tablespoons of oil to the same pan and add the eggs. Let set a few seconds, then lightly scramble, breaking them into small pieces with a spatula. Return the noodles to the pan and add the bean sprouts and scallions, reserving a small amount of each for garnishing the finished dish. Stir for 30 seconds to mix and transfer the noodles to a plate. Garnish with peanuts, reserved scallions and bean sprouts, and cilantro. Squeeze lime wedges over the top and serve immediately.
Source: Easy Asian Noodles, by Helen Chen, John Wiley & Sons, Inc. Copyright 2010 by Helen Chen

Print Friendly