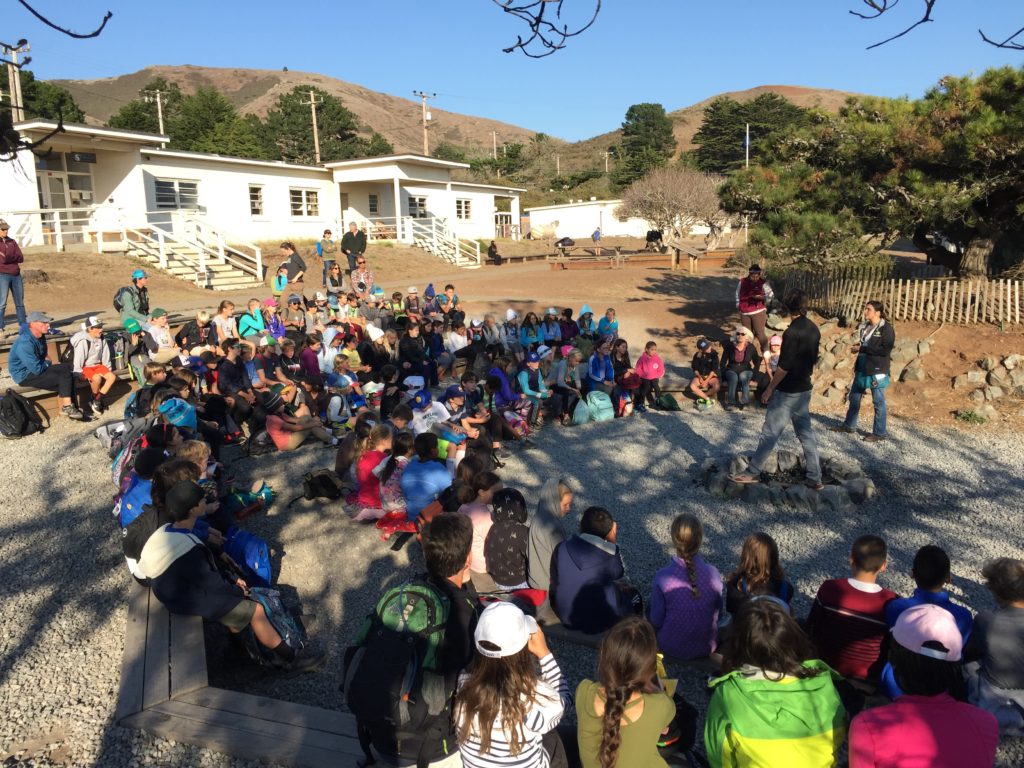 For three days last week, I hiked, explored, learned and dined with nearly 100, 5th grade students from our Elementary School. it is an annual trip that my girls have looked forward to since kindergarten, and one I just couldn't miss either.
The entire grade spent time out at Nature Bridge in the Marin Headlands. As a chaperone, I spent the mornings and evenings helping corral the class, and during the daytime, hiked with a smaller group of 16 students as we headed out and about into hills surrounding our Nature Bridge headquarters to learn about everything from plankton to nuclear warheads.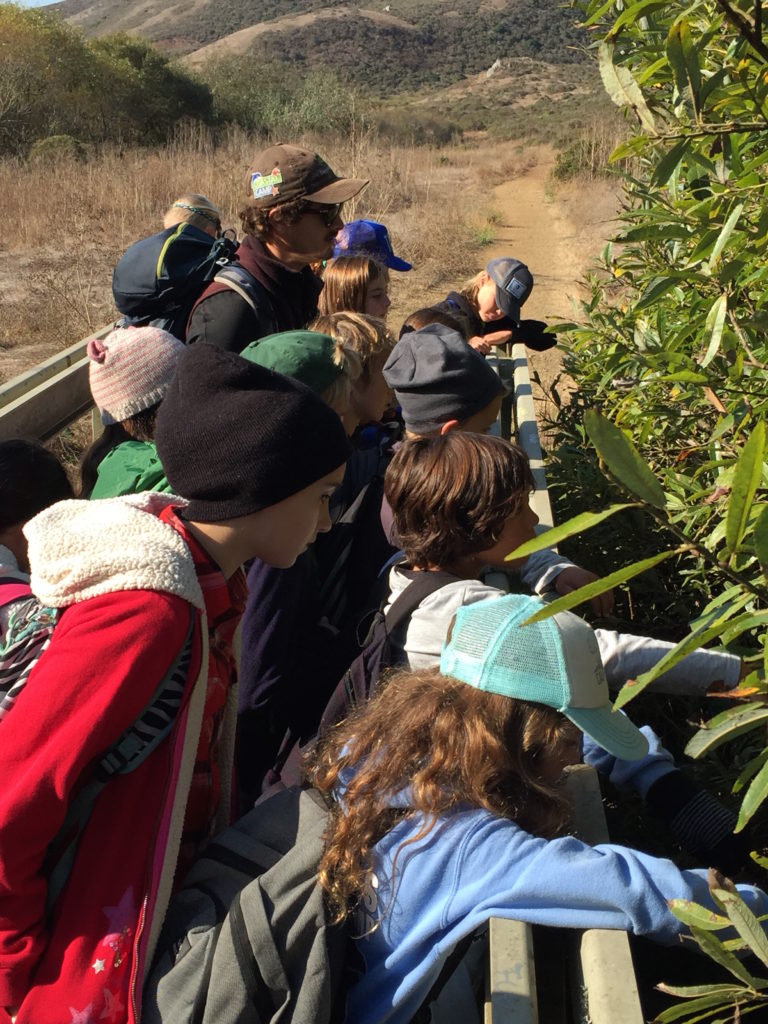 The adventure welcomed some highs and lows. My group was challenged the first day, hiking nearly 7 miles before arriving at our destination in Marin Headlands. Not always paired up with their best friend, the children were challenged to interact and spend time with those they don't necessarily 'play' with at school (especially the boy/girl connection).
Through it all, they worked together as a team, supported each other when needed, and learned how to make the most of a challenging situation. At night, these 10-year-olds were also challenged with the idea of being away from their families for so long.
We were all out of our element, but learned how to adapt and make the most of our situation.
There were many things which stand out to make the trip enjoyable — digging for bioluminescence by the light of the nearly full moon, a discussion on scat piles found on the trail, team building exercises on the beach, a visit to the Nike Missile Site, a lab class on plankton, and learning about the health of the water systems.
Aside from all these great learning opportunities, I find myself thinking about mealtime as perhaps the most surprising finding.
Mealtime Lessons

Eat What You Are Served
The entire group ate together during breakfast and dinner, then each individual group enjoyed lunch out on the trail. The food served was healthy and wholesome. The mid-morning snack was an apple — which they enjoyed while fighting off the bees, and at lunch, it was turkey and cheese sandwiches one day, the next sunflower butter and jelly accompanied by carrots. Lunch 'treats' included goldfish one day, potato chips another — and a cookie at the end of the long day. You only took what you would eat, and no one complained.
Back at Nature Bridge, dinner was devoured!
Aside from lunch on the first day of hiking, all food served was from Nature Bridge. Unlike here at our house, the kids did not have a multitude of backup options when it comes to being served something they don't like. What was offered was their only choice (albeit pretty darn good — The food is often cited as a favorite part of the trip!)
There was no grazing throughout the day: When the kids are home (at least in my home), they're always digging through the pantry looking for something to snack on. Half the time I know that they aren't even hungry — it's just there in front of them, so they'll snack. During this trip, food became less about having a multitude of choices, and more about enjoying what is placed in front of us.
Don't Waste Food
Food waste was a big issue that our guides focused on during our stay. We started out on the trail with the Apple Core Club — eating it all, even the core, not throwing it into the bushes where the seed could regenerate.
Back at the dining hall, the kids were encouraged to take smaller portions and then go back for seconds if needed. Take only what you'll eat, then go back for more.
Each evening, the children gathered to plot their food waste — both solid and liquid. During our short stay there, the kids significantly lowered the pounds of food waste from the first evening to the last. Throughout the week, I heard them discussing mealtime portions with each other so they could cut down on food waste.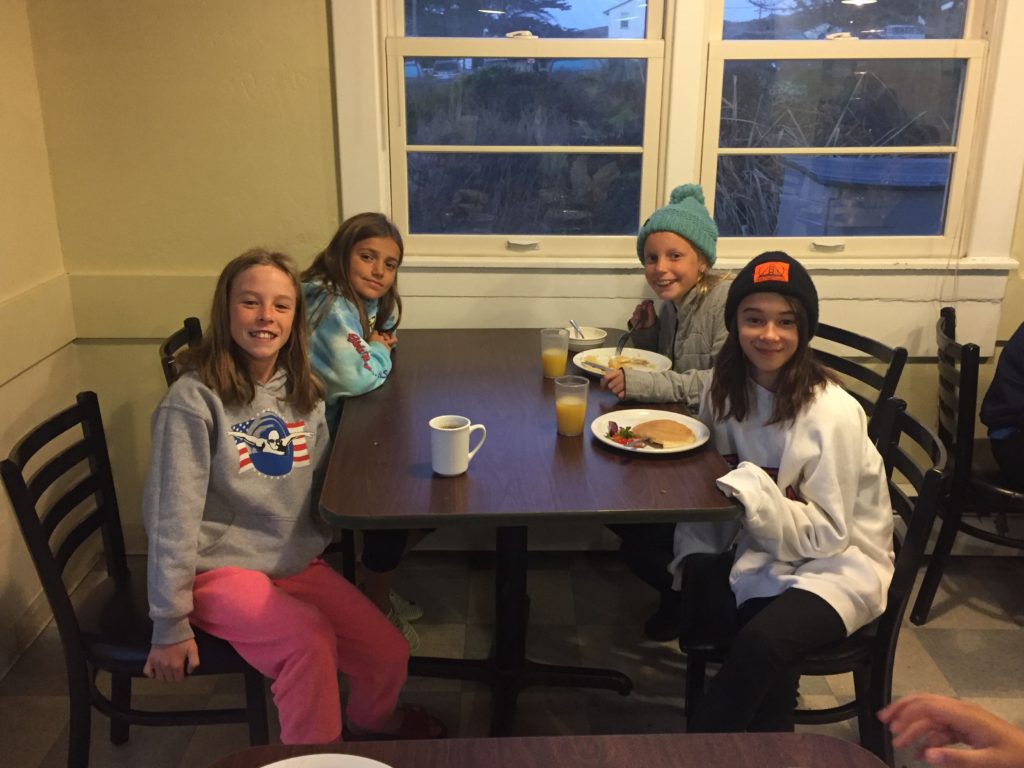 Clean Up After Yourself (crumbs and all!)
We ate on a bandana out in the field, capturing our crumbs instead of allowing them to fall to the ground. We pitched in cleaning up in the dining hall, ensuring all food was properly disposed of in the appropriate bin. We left no trace behind on the trails — looking under our picnic table, picking up scraps of food and wrappers which may have been left behind.
Back at home, our girls can't stop talking about their experience. One of our favorite places to hear new stories is around the dinner table. I'm definitely looking forward to this evening's meal — I have a few stories to tell as well!

Print Friendly