I have been purchasing organic produce for some time; sometimes at the farmers market, mostly at Whole Foods during my weekly excursion. I've had friends suggest that I head to Costco for the great prices on organics, and a little voice in the back of my head has been saying, "Try a CSA box." I've been ignoring that voice for some time, just never wrapping my head around what it takes to make it happen. Until one day last month when someone came to my door. I'm not one to take the time for solicitors, but this time, I listened – and, eventually indulged.
Today, I'm two weeks into my first Farm Fresh to You box of fruits and veggies, and I'm eagerly awaiting tomorrow's delivery so we can restock our dwindling fruits and veggies stock.
When it first arrived on our doorstep and opened the box to look inside, I was filled with excitement and fear at the same time. I had made the commitment, and there was no turning back. The box sat in front of me, and so did two week's worth of fruits and veggies. I saw kale,  brown beech mushrooms, carrots, spinach, and beets. There were oranges, pears, and apples, along with butternut squash, sweet potatoes, and lots and lots of lettuce.
In that box I saw hope and the potential for frustration. I hoped that my kids would be excited to give some of it a try, but deep down, I knew that there would be some resistance — especially when it came to the vegetables.
But, before I could get thinking about how I was to use the fruits and veggies this week, I had to
to find a place to download the box, and properly store the produce so it would remain fresh without spoiling, until we ate it.
Those leafy greens would certainly start to wilt before we got around to eating them unless I took care of preparing them properly. There was two weeks worth of fruits and vegetables sitting there, and I was determined to make use of it all.
How to Take Care of Your Lettuce and Leafy Greens
Separate all the leaves of lettuce. Fill the sink with cold water and place the leaves into the water, swirling them around a bit to help clean them. If your lettuce is a bit limp, go ahead and keep the leaves in the water soaking for 30 minutes, this will help bring them back to life.
After the leaves soak, rinse each again to remove any remaining dirt, and place in a salad spinner. Don't over-pack the spinner. Spin until dry.
Place the leaves on one side of two connected paper towels. Wrap the paper towels around the lettuce and slide it into a zip lock plastic bag. Squeeze out the air and zip closed. The lettuce can be stored in the fridge, and remain fresh for a couple of weeks.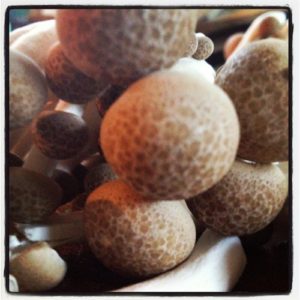 CSA Benefits 
Community Supported Agriculture (CSA)  is growing in popularity. It is a way for consumers to buy local, seasonal food directly from a farmer. And, just two weeks into our CSA experiment, I am finding that all those things I've heard about CSA boxes are true:
They're an affordable way to purchase our fruits and vegetables. The price for our two-week supply of produce has cut down on our cost, while driving us to ensure we don't let anything go to waste.
We are experiencing an array of fresh, seasonal produce, with all the flavor and vitamin benefits. Eating seasonally is the way things should be, and our CSA allows us to do that.
We are exposed to new vegetables and new ways of cooking. Challenged with using the produce we had on hand, I made a few things that I would not have otherwise made. We made yogurt tart (recipe below), spinach gnocchi, and kept green salads on the table. Our mushrooms appeared on our pizza, and the cilantro in our omelettes.
We are finding the kids are talking more about which foods are in season, and are even interested in finding out about the farm from where their food comes. Add to this, they have become a bit more adventurous, trying foods they would otherwise choose not to indulge in, especially when I preface the meal with, "Hey, your farmer grew these delicious brown beech mushrooms for you, the least you can do is give it a try!"
Here is one of the recipes that came in our box of produce – Given the varying likes and dislikes of my kids, I was expecting at least 2 of them to push this aside after one bite. Instead, they asked me to make it again.
Farm Fresh Orange and Yogurt Tart
1/2 cup raw almonds
¼ cup granulated sugar
coarse salt
1 cup all-purpose flour
6 tbsp of unsalted butter
2 tsp powdered gelatin
½ cup half-and-half
1 ½ cups plain Greek yogurt
¼ cup packed light-brown sugar
3 medium navel oranges
In a food processor, pulse almonds, sugar, and ½ teaspoon salt until finely ground. Add flour; pulse to combine. Add butter and pulse until mixture is crumbly and holds together when squeezed. Press crumbs in bottom and up side of an 8-inch fluted tart pan with a removable bottom. Freeze 15 minutes.
Preheat oven to 350 degrees. Place pan on a baking sheet and bake until golden brown, 30-35 minutes. Let cool on a wire rack 10 minutes, then remove tart ring and let cool.
In a small bowl, sprinkle gelatin over 2 tbsp cold water and let stand 5 minutes. In a small saucepan, warm half-and-half over medium het. Wehen it begins to steam, add gelatin mixture and stir until dissolved. In a medium bowl, whisk yogurt, brown sugar and pinch of salt. Stir warm half-and-half mixture into yogurt mixture. Pour filling into cooled tart shell and refrigerate until set, 2 hours (or up to 1 day).
Peel and slice oranges into ¼-inch-thick round and remove any seeds or excess white pulp. Just before serving, arrange orange slices on top of tart.
Source: Martha Stewart

Print Friendly