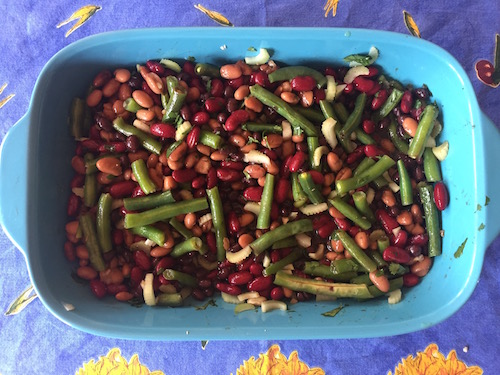 This festive colorful salad is good with cornbread and any soup. Also try serving at room temperature over hot rice (you can melt some cheese into the rice) with steamed tortillas.
Try making the salad with a combination of 1 cup each: pinto, kidney, black, and garbanzo beans. Dry beans need to soak at least 4 hours–preferably overnight. Pinto, kidney, and black beans can be soaked, and then cooked together. Garbanzos should be done separately.
4 cups dry beans, soaked
6 tbsp olive oil
1 tbsp minced garlic
3 -4 tbsp lemon juice
6 – 8 tbsp red wine vinegar
1 ½ tsp salt
lots of black pepper
¼ lb fresh green beans
2 medium stalks celery, finely minced
1/3 cup very finely minced red onion
up to 1 cup (packed) freshly minced parsley
1 small red or green bell pepper, minced
optional: a small amount of minced cucumber (peeled and seeded)
optional garnishes: cherry tomatoes, sieved hardboiled eggs
Cook pre-soaked beans in plenty of gently simmering water, partially covered, until just done. Keep the agitation to a minimum during the cooking so the beans don't explode. Begin checking the beans for done-ness at the 45-minute mark, just in case they are getting done early. The goal is: perfect tender, distinct little morsels.
Combine oil, garlic, lemon juice, vinegar, salt, and pepper in a large bowl.
Trim the tips of the green beans, and steam until tender (5 to 8 minutes, or to your preference). Refresh under cold running water and drain well.
Drain the cooked beans and add them, still hot, to the bowlful of dressing. Add remaining ingredients and mix well. Let marinate for at least 2 to 3 hours (even longer is better).
Serve cold or at room temperature, garnished with cherry tomatoes, and, if desired, sliced hardboiled eggs.
Source: The New Moosewood Cookbook, by Mollie Katzen, 10 Speed Press, 2000.
Save

Print Friendly