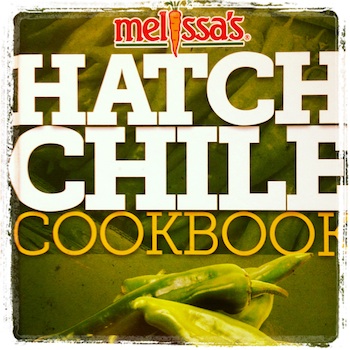 August is the season for Hatch Chiles, and who better to turn to then Melissa's/World Variety Produce, Inc. to learn about this seasonal favorite. Dedicated to sharing with its consumers the best in seasonal produce, this new addition to the company's collection of books takes the celebrated Hatch Chile to a new level. The Hatch Chile Cookbook, written by Sharon Hernandez and Chef Ida Rodriguez, offers a collection of user friendly and palate pleasing recipes using Hatch Chiles and Hatch Chile Powder.
Grown in the Mesilla Valley of New Mexico, Hatch Chiles are only available for a few weeks (in August and September), so be sure to grab yourself some and get cooking.
You can buy them in bulk, then roast them and enjoy throughout the year, they can be frozen for up to 2 years – and, according to the book, Hatch Chiles become hotter over time, even when frozen!
The cookbook is filled with recipes to help you enjoy Hatch Chiles throughout the day. From Breakfast and appetizers, to sandwiches & wraps, salads, sides and even dessert – yes, dessert! Go ahead, try those Hatch Chile S'mores! (we've included the recipe below)
Other Great recipes found in the book include:
Black Bean and Hatch Chile Wraps
Papas con Chile
Hatch Chile Guacamole
Hatch Chile Braciole
Hatch Lentil and Edamame Salad
Remember, that Hatch Chiles come in varying heat levels, so do a bit of experimenting when you try out the recipes. If you can't find Hatch Chiles in the market, you can order them from Melissa's, or try the company's Hatch Chile Powder.
Hatch Chile S'mores
5 graham crackers, snapped along perforations into quarters
40 miniature marshmallows
12 ounces semisweet chocolate chips
2 tbsp vegetable oil
½ tsp Melissa's Hatch Chile Powder
Preheat oven to 350 degrees F
On a baking sheet, spread half of the cracker quarters. Top each with 4 marshmallows and bake until the marshmallows begin to melt, about 5 minutes. Take the crackers out of the oven and immediately top them with the remaining cracker quarters, pressing down slightly.
Combine the chocolate and oil in a microwave-safe bowl. Microwave on high for 1 minutes, then stir the mixture with a wooden spoon. Continue microwaving on high in a 10-second increments, stirring well after each incremment, until the chocolate and oil are completely melted, combined, and smooth. Add the chile powder to the chocolate and stir to incorporate. Dip each cracker into the melted chocolate, turning to coat all sides and setting on parchment paper to dry.
Note: This is a fun treat with a little punch. Make sure the bowl and the spoon you use for melting chocolate are both perfectly dry, as any moisture can cause the chocolate to seize (form a hard grainy mass) rather than melt smoothly.

Print Friendly