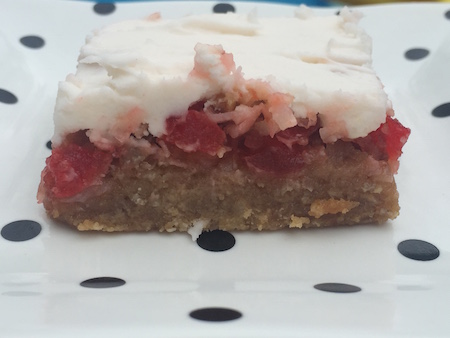 Mom's readying her entries in the Cuyahoga County Fair today. Lucky me, because there are extras. This tasty oatmeal bar is made even more delicious with the addition of one of my childhood favorites — maraschino cherries. Clearly, this easy oatmeal bars satisfy any large crowd.
Crust
1 cup all-purpose flour
1 cup quick-cooking or old-fashioned oats
1 cup firmly packed brown sugar
1 tsp baking soda
1/2 cup butter, softened
Filling
2 eggs
1 cup lightly packed brown sugar
1/2 tsp vanilla extract
2 Tbsp all-purpose flour
1 tsp baking powder
1 cup coconut
2 (10-ounce) jars maraschino cherries, drained and coarsely chopped
1/2 cup chopped pecans
Icing (optional)
1/3 cup butter, softened
1/2 tsp vanilla extract
3 cups powdered sugar
4 Tbsp milk
For the crust, combine flour, oats, brown sugar and baking soda in mixing bowl. Cut in butter until crumbly. Press into a 13X9X2-inch baking pan. Bake in a preheated 350 degree oven for 10 minutes.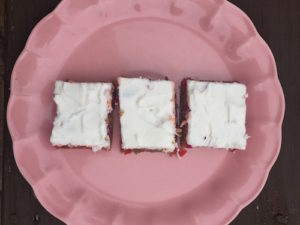 For the filling, beat eggs, brown sugar and vanilla together thoroughly. Combine flour and baking powder, stir into egg mixture, mixing well. Stir in coconut, maraschino cherries and pecans. Spread evenly over crust. Bake in a preheated 350 degree F oven 25 minutes or until lightly browned. Let cool completely.
If desired, prepare the icing by combining butter, vanilla, powdered sugar and milk. Beat until smooth and creamy. Spread over bars.
Makes about 4 dozen bars.

Print Friendly