A couple of years ago, Greg and I made the decision to start making our own bread. Not just an occasional loaf of French Bread to enjoy with our weekly cheese and bread date night. No, bread for the week. Bread for sandwiches. Bread for toasting. Bread for whatever the week sent our way.
I began my search for recipes to make – the easy (Irish soda bread) to the more complicated (sourdough). I fit the bread baking in on Saturdays, in between meals and snack time. In between family time and playdates. In between complaining about the writing I needed to do, and finding a quiet moment to relax.
I pursued this new venture with gusto for a few months, but as time passed, things changed. It was a gradual change — so gradual that I didn't immediately notice it. But one day I looked up from my ball of dough and my bread-baking skills were not needed. I had to make way for my husband.
Albeit a wonderful cook, the kitchen was my domain, not Greg's.  I had mastered an air of efficiency – cooking, cleaning, and serving the troops, that Greg rarely had the time — or, perhaps the gumption — to hone in on my space. Obviously he found an opening. He found his opportunity in the moment between his Saturday morning pancake/waffle brigade and our next big adventure. That awkward moment, when I flounder around the kitchen, hoping I'm not in charge of cleaning up the mess he made while making pancakes, and figuring out what it is I will offer to the kids for a mid-morning snack. He found it an opportune time to make his move.
My loaf-making services were no longer needed. Instead, Greg would become the loaf of the family.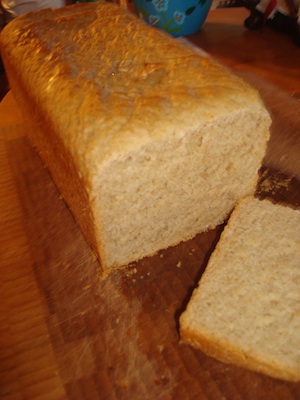 Greg has turned out to be a self-taught bread-maker, who shuns formal lessons and any helper equipment (like the stand mixer and a bread machine) that might make bread-baking a bit easier. Instead he opts to find his bread-baking groove with his own muscle, and in his free moments, he enjoys reading – and rereading – recipes  until he has a firm grasp on the process.
Yes, there have been stumbling blocks upon the way . . .
The loaves that were inadvertently placed in a way too hot oven, a fact neither of us discovered until it was way too late.
Days when the dough is left to rise for hours and hours and hours, while we enjoy a family activity miles away from home. Upon returning home, the rising loaves look as if they are on steroids, and when baked, rise a bit more to create a crust that is detached from the body of the bread.
There have been anemic loaves, cowering well below the edge of the pan, refusing to heed our pleas to 'rise.'
The days when he has learned, once again, that it is best not to double a recipe, but instead simply make it twice.
Countless times he has lost count of cups, teaspoons, or pinches already added, due  to interruptions from the kids.
Realizing that he doesn't have a crucial ingredient after he is well into the process.
But, more than the pitfalls, the times things didn't work out, I believe Greg's bread baking has been beneficial to our family.
Who doesn't like freshly baked bread?
The house smells wonderful – I especially love waking up to bread he finished baking after I went to sleep.
Greg and his father-in-law can now bond over bread-making tips, as opposed to arguing over politics.
Kids proudly announce to their friends, "My Dad made this bread."
He works out frustrations of the work-week while kneading the dough.
He is enjoying his new role as the family bread baker.
We all are enjoying his new roll as the family bread baker.
The kids stand at the oven, smelling the bread, and await for the bell to ring so they can beg him to taste it.
Our bread baking is saving us money.
We know what's in our bread. It certainly contains a lot fewer ingredients than store-bought bread – all of which are pronounceable.
This past week's loaf was a true testament to how good he has become. He baked the most beautiful and tasty loaf of bread I have seen him make to date. It was a quickly devoured Vienna Bread. Next up on his adventure — sticky buns.
That reminds me, not only must I make way for him in the kitchen, but I think it is time I roll out the red carpet.
Thanks, Greg. Keep on doing what you're doing!

Print Friendly