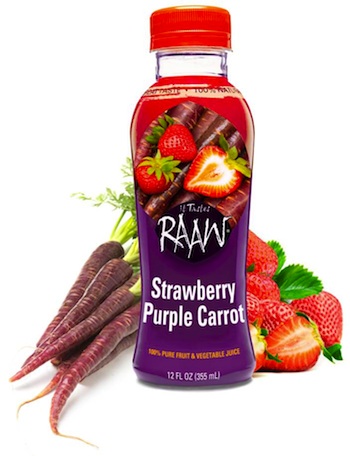 Rarely do you find any juice in our house – we stick to water, milk, coffee, tea, and wine. On occasion we venture into other beverages such as lemonade or a homemade soda from our Soda Stream.
Fruit is readily accessible to the kids. We've a bowl on the table filled with apples and oranges all the time. In the fridge we have grapes cleaned and ready to nibble on. I put kiwis in their lunches, fill their bellies with pineapple before gymnastics, and I tuck a banana in the bag for baseball practice. But rarely do you find juice in our house unless I'm planning on making the kids a smoothie.
I'm of the belief that I don't need to entice the kids with anything too sugary. And, given that most bottled fruit juice contains a high amount of sugar in the form of fructose, why not eat the real thing instead? However, I may be rethinking my juice ban.
Lately, now that I'm editing a beverage publication for the trade, I've had the opportunity to try a bunch of different beverages. much to the enjoyment of my children. This past week it was a collection of it Tastes Raaw® juices from RAAW Foods that expanded our horizons.
The kids get excited when I get a big box, especially when it is filled with juice in colorful bottles. I barely got them out of the box when they started to shout out the names of the different varieties. They immediately began to stake a claim on which one they wanted to try.
First up with Mango Guarana, one of the three new flavors.Next up were the other two new varieties: as Very Berry Wheatgrass, followed by Strawberry Purple Carrot. Each was filled with flavor, and offered a unique flavor that kept us drinking more — even it the words wheatgrass, carrots and beets cause them to pause, albeit only momentarily.
Each it Tastes RAAW® Juice blend is created with carefully selected fruits and vegetables; adding no sugars, no water, no preservatives, no artificial dyes or flavoring, and no fillers such as protein or fiber. (They're non-GMO certified, gluten free, vegan, kosher, too)
Not only did they have a delicious, refreshing flavor, but since they were 100% pure juice bends, I felt good about watching my kids run their own taste test of the newly arrived flavors.
But, they're not just a kid's drink. These juices gave me pause to think – they are delicious, refreshing, and good for me. All are carefully formulated to give me the added benefits of each fruit and vegetable combination. I enjoyed the Pineapple Cucumber at the baseball game yesterday, and am hiding the Raspberry Lemongrass in the back of the fridge so I can refresh myself after an invigorating yoga class later this evening.
And, I even found several recipes that will help us enjoy it tastes RAAW at party time. The Strawberry Splash which mixes the Strawberry Purple Carrot a bit of vodka (and a splash of a few more ingredients) is probably going to be on the short list of our at-the-beach beverages when we head to the Florida Keys for vacation in a few weeks.
With nine original and innovative flavors on shelves across the continental U.S. and beyond, we'll be sure to find it Tastes RAAW nearly everywhere we roam – even if it's just into our kitchen.
In addition to the three new flavors, there are Cranberry Ginger, Raspberry Lemongrass, Passion Fruit Wheatgrass, Carrot Lemonade, Better Beets, and Pineapple Cucumber. The 12 oz. bottle retails for $2.99.
Check out the It Tastes RAAW website for more details about where you can find them.

Print Friendly