Recently, Grandma and Grandpa came to visit, and we thought that making ravioli would be a great way to keep Grandpa busy with the Addie and Keely. It was a fun afternoon that resulted in 110 individual ravioli, along with 2 extra large raviolis made once Nicole arrived near the end of our ravioli-making production line. We used our Marcato Atlas pasta maker, the Marcato Ravioli Tablet, and the Atlas Dispenser for sprinkling flour onto the dough.

Since our 10-year-olds had such a great time, I asked one of them to each write a bit about their time in the kitchen with Grandpa. Here is what Addison had to say about it.
Homemade Ravioli with Grandpa by Addie

I made this delicious recipe for ravioli with my grandparents when they were here! We had so much fun making it, and it was only our first time doing it by ourselves — and it turned out great!
Making ravioli with Grandpa was awesome! My sister and I took turns doing each part. For one batch, I would do the crank and Keely did the filling and pressing. For each station we would then switch and do the next.
My favorite stations was when I took the thin dough and I placed it on the cutter and put the filing in. I felt like a real chef!
The Process
This is an easy recipe for ravioli that I made with my grandpa, and you can, too! It is easy, fun and delicious. What we did is make the dough with a few easy ingredients, and kneaded them together to make a dough that we could work with.
I turned the pasta maker to 1, and we rolled it through about 6 times. (Note: our old Atlas does not have a '0' setting, as noted in the Marcato video tutorials). Once it was thinner, we rolled it though stages 2, 3, 4, 5, and 6. Then we powdered it with flour and took it over to the ravioli maker and measured its length, and cut. We then laid the dough down over the cutter.
And, here is a tip: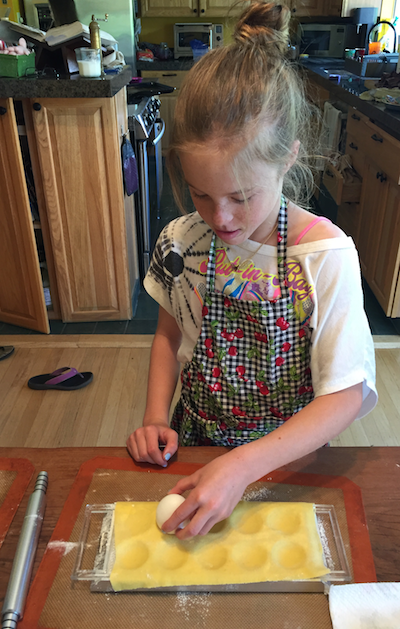 Addie's Tip for Making Ravioli
"Go into your fridge and take an egg. Instead of using your thumb, gently press down the dough with the egg into each cup dent (of the ravioli maker) to make room for the filling.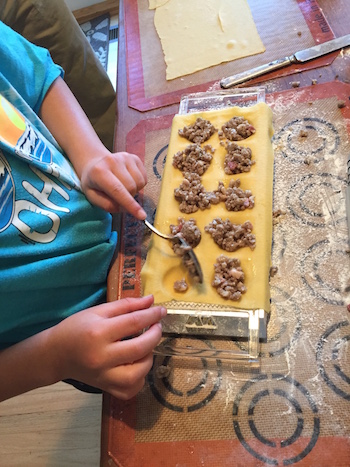 Then you take whatever filling you choose and fill each about up to the top, but not more because it could rip.
For our recipe for pasta dough, click here.
You can visit the Marcato YouTube channel for some easy-to-follow video tutorials.
Save
Save

Print Friendly