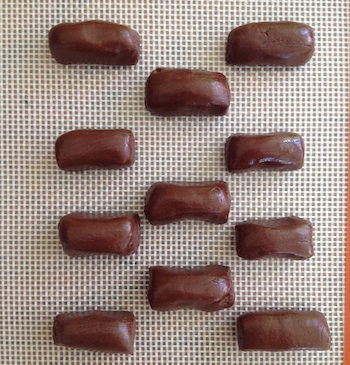 I'm a fan of Tootsie Rolls, but I'm not a fan of all the hard-to-pronounce ingredients that they are made of. So, this Halloween, I thought I'd try making a few of my favorite. I dug up this recipe on A Cozy Kitchen blog, and found that it is relatively simple to make, and produces pretty good results — albeit a bit soft. If you're planning on giving them as part of a gift, don't forget to wrap them. You can see how they're wrapped on the A Cozy Kitchen blog.
1/4 cup unsweetened cocoa powder
1 cup confectioner's sugar
1/4 cup dry milk powder
Pinch of salt
1/4 cup light corn syrup
2 tablespoon unsalted butter, melted
1 teaspoon pure vanilla extract
In a large bowl, sift together the cocoa powder, confectioner's sugar, dry milk and salt.
Add the corn syrup, melted butter and vanilla extract to a small bowl. Using a fork, whisk vigorously until everything is completely combined.
Stir the syrup mixture into the dry mixture. It will at first appear like there isn't enough liquid to bring the tootsie roll dough together, but keep going. Using your hands knead the mixture together for a few minutes. Eventually it will go from powdery to chocolatey and smooth. Form the dough into a round disc.
Using a sharp knife, cut the dough into 1/2-inch slices. Take one slice and roll it into a long, thin rope; cut the rope into 1-inch tootsie rolls. Transfer the cut tootsie rolls to a baking sheet or cooling rack. Repeat the process until you've formed about 30 tootsie rolls. Place the tootsie rolls in the fridge for 1 hour and until firm. Wrap the tootsie rolls in parchment or wax paper that are 3 1/2 x 2 1/2 inch squares.
Yields 34 Tootsie Rolls
Recipe from A Cozy Kitchen

Print Friendly