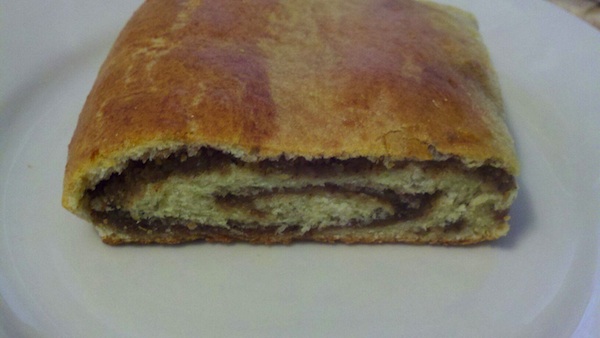 'Tis the season for traditions. And some of our favorite holiday traditions are based around the kitchen. From cookies to bread to sausage and more, the smells and tastes of our holiday favorites remind us of years gone by.
As I sit here remembering Mom making our favorite Magic Carpet Cookies, or Grandma's holiday breads, it brings such a good feeling, and helps jump-start me to get into the kitchen and continue those traditions with my children.
I was about to do just that one morning last week, when I decided to check my Facebook feed. There I  read a wonderful post from a high school friend about a tradition she shares with her father. It was a wonderful post that evoked a lot of responses from her friends (and memories of my aunt making nut roll and poppyseed roll.) So I asked here if she would let me share it with Family Eats.
She agreed, and also provided us with the recipe for the tasty nut roll she made with her father.
When I was a little girl, my dad would let me watch him make nut roll for Christmas and Easter. It was a family tradition his mom passed down to him and that he has been doing for 60 years. He would let me grind the nuts and when he would plop down that ball of dough he would throw it down like he meant business just to make me giggle. Then after he spread the nuts on the dough he'd let me clean out the rest of the bowl for that sweet nutty filling that was left.
He's not been a big fan of letting people watch because he gets in the zone and cranks out 8 or 12 rolls at a time, and doesn't want conversation slowing down the process, but today I happened to stop by unannounced and he was home alone (my mom was shopping) and so I sat down and started watching silently like I used to. He threw that dough down, and yes it still makes me giggle, and went back in time telling me stories of how he used to help his mom make it, and how the first time he told my mom he'd make nut roll for the holidays she just looked at him like "Yeah, ok dear."
While talking, I started taking notes, building the recipe and writing his tips of what to do if the dough is sticky or if the nut mixture isn't spreading easily, and to not forget to brush the rolls with egg wash before baking.
Once he had spread the nuts, he passed the nearly empty bowl across the table and said, here u can have the rest. Of course I cleaned out every morsel.
We put the rolls in the oven, and I had to go…..but on my way home the magnitude of this morning washed over me and I cried the rest of the way home and still am. My dad is 86, and he took me back in a heartbeat to being the little girl across the table eagerly watching him make his masterpiece that had become our family's tradition for decades.
I love you Dad, I hope I can sneak in and silently watch for many years to come.
Nut Roll
Oven Temp: 350 degrees
Baking time: 35 minutes
Nut Filling

1lb walnuts
1 package of graham crackers
1 C sugar
1/2 C brown sugar
1/2 stick (4 Tbsp.) margarine
1/2 C + a little more of milk
Grind walnuts through a meat grinder, also grind one package of graham crackers. (one package, not one BOX) Add sugars and set aside.
Melt margarine into the milk and then blend together with nut mixture. Spread evenly in a casserole or other flat container so that it can be divided evenly into four.
Dough
6 C all purpose flour
2 sticks margarine
1 C sour cream
3 eggs (beaten in the blender)
2 Tbsp sugar
1 tsp salt
2oz cake of yeast
1/2 C of milk
1 additional Tbsp sugar
Raisins
Tip: Margarine seems to work better than butter
Mix dry ingredients (flour, salt, sugar) then slice "pats" of margarine into flour as it mixes. (I use a Kitchen Aid large mixer with hook attachment on slow speed)
While that mixes a bit combine 1/2 C of warm NOT hot milk, 1 T. sugar and the yeast crumbled into bits into a 2 or 3 cup measure or bowl. Mix up the ingredients well with a fork, and then put in a warm place for 5-10 minutes. (The sugar will help the yeast activate) I just leave it in the microwave while it's off.
Then add sour cream to flour mixture and mix a short while, DON"T over mix. Then add 3 eggs that were blended on high and mix a short while again.
Now that the yeast mixture has had a few minutes to get moving, pour that into the dough mixture and keep mixer going at low speed. If the dough is coming out right, it will clean itself off the inside of the bowl and cling almost completely to the hook in a large ball. If it seems to sticky, sprinkle a little flour down into the bottom of the bowl.
Once dough has cleaned itself off, remove from bowl and separate into 4 equal pieces and set aside.
Using a rolling pin on a cutting board about 12″x18″, roll one of the balls of dough into an approximately 10″x14″ rectangle. Spread 1/4 of the nut mixture over the dough. If it isn't spreading easily, heat the nut mixture some, and also dipping the spreader into a glass of warm water can keep it from sticking.
Once nuts are spread, sprinkle on a couple dozen raisins evenly spaced. Then roll the dough up and place in a slight crescent shape on greased cookie sheet slightly off center. Make second roll and place on same cookie sheet leaving a few inches between them. Move to a warm place and cover with a cloth to let them rise.
Once all four rolls have risen (approximately 30 min) brush on a beaten egg, just covering each roll lightly with egg wash. Then back for 35 minutes in a 350 degree oven. Half way through the baking time, rotate pan for even baking.
Poppy seed filling or prune filling can also be substituted. Using about 10 oz of canned filling will cover 1 roll.

Print Friendly