As we head into the final stretch of Thanksgiving Planning, the
California Milk Advisory Board
provides us with some great advice for feeding the crowds. Following the Family Eats Four Pillars, The CMAB offers tips and suggestions on how to bring it all together. Whether they're appetizers on the big day, or nibbles for watching the game, a delicious cheese ball, made with California dairy, is destined to be a crowd pleaser.
Planning
When you're laying out the menu, pick out a few dishes that can be made ahead and served cold or heat quickly before serving. this will allow guests to nibble on snacks as you put on the finishing touches. One great example of a make-ahead dish is a cheese ball. Here are a few tips for putting one together.
Have a (California Cheese) Ball at Your Next Party
Cheese balls are the classic retro appetizer that never goes out of style. You can create your own signature ball by mixing your favorite cheeses, nuts and herbs. These versatile starters are made even better by the fact that they can be made in advance and frozen so you always have one at the ready when friends drop by.
Grate Tip
If you are measuring grated cheeses by the cupful rather than by weight, they should be lightly packed into the cup for the correct measurement.
Mixing: Take it Into Your Own Hands
If you are mixing by hand, the cheeses will combine more easily if they are at room temperature.  If you use a food processor, the temperature really doesn't matter.
For "by hand" mixing, a big wooden spoon or, even your clean hands, are the best tools for the job.
Better Together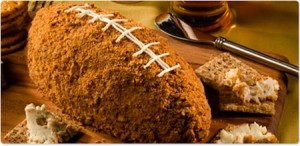 Any cheese ball mixtures can also be formed into a cheese log about 5 inches long and 2 inches across.  If you're adventurous you can even try shapes – a football for a tailgate party,  a pumpkin for Halloween and a shamrock for St. Patrick's Day.  If you are entertaining and prefer a large serving, you can skip the cheese balls and simply pack the cheese mixture into a small crock or bowl and press the coating ingredients on top.
Freeze and Storing
Cheese balls can be frozen. Thaw them for a couple of hours at room temperature, or overnight in the refrigerator.
Have a ball for dinner
Toss leftover cheese balls with hot pasta or rice. Let the cheese ball come to room temperature before tossing. For a rich addition, bring a little cream to a simmer and mix in.
Make miniature cheese balls from your favorite soft cheese, such as California Feta or fromage blanc, rolled in toasted nuts and herbs. Added to mixed greens these tiny cheese bites are an easy, delicious way to elevate any salad.
California the Cheesiest State
The golden state is the second-largest producer of cheese, which is available nationally under the Real California Cheese seal. California has more than 50 cheesemakers who produce 250 different varieties and styles of cheese.
When you're picking out cheeses for your cheese ball, check out our Pair Savvy App to find out which seasonal beers or wines will pair best.
Get Pair Savvy
Find a delicious pairing for your favorite California cheese with this simple tool. Download our free Pair Savvy app for helpful tips on cheese pairing with wine, beer and even chocolate.
Purchasing
Look for the seal when you shop. By choosing products with the Real California Milk or Cheese seals you can support California's more than 1,500 dairy families. California has a wide variety of dairy products. Check out the more than 250 cheeses that we produce.
 Preparing
Take ingredients like butter out ahead of time to ensure it's softened. When you're grocery shopping for the big meal, consider buying items like sliced cheese and bread that will turn your leftovers into tasty lunches the next day. Turkey panini's or turkey mac and cheese? Yes please!
Enjoy the meal with your family. Here are a few delicious recipes made with california dairy.
Recipes
These recipes are and photos are available on our website.
Cranberry Turkey Gelee with Orange Scented Crème Fraiche
California Blue Cheese and Toasted Walnut Cheese Balls
California Ricotta Cheddar and Bacon Cheese Balls
California Milk Punch
Small Bites
Another menu trend to consider is small bites or appetizers. We have several recipes to give your guests a taste of several different dishes.

Print Friendly