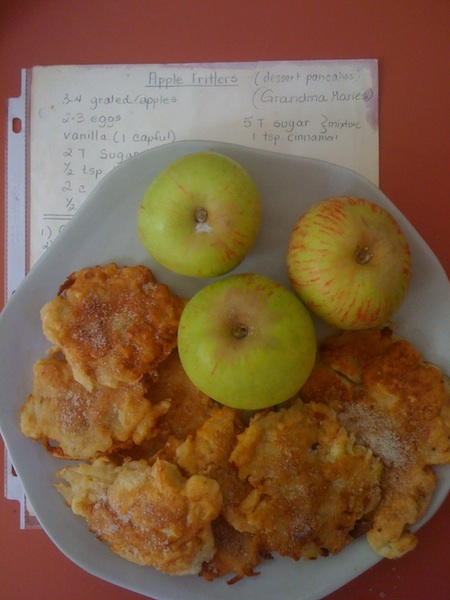 3-4 grated apples
2-3 eggs
1 tsp vanilla
2 tbsp sugar
½ tsp baking powder
2 cups flour
½ cup milk plus a bit more water
Directions:
1. Grate apples
2. In a bowl, combine slightly beaten eggs, vanilla and sugar
3. Add flour, baking powder, and milk/water until dry ingredients are wet. Do not beat.
4. Add grated apples – Batter should be a thick pancake-type consistency that sticks to the wooden spoon
6. Heat a tablespoon or two of the oil in a skillet on low
7. Put about 1 wooden spoonful of batter into a pan (as many as can fit)
8. Press down slightly (flatten) and let cook on one side about 2 minutes (Don't let them get too dark)
9. Turn over and brown another 2 minutes.
10. Immediately remove and coat 2 sides with cinnamon/sugar mix.

Print Friendly