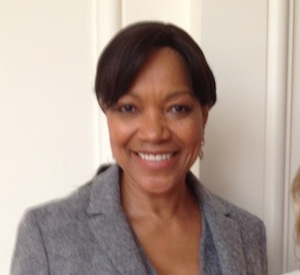 For the past few months, I've been involved in a wonderful coffee project headed up by philanthropist, singer, mother, and all-around inspirational woman, Grace Hightower De Niro.  During this time, I've spent some time speaking with Grace about what brought her to her recent venture as I helped tell the story of Grace Hightower & Coffees of Rwanda.
This past weekend, I had the opportunity to sit on stage with her during a discussion at the International Women's Coffee Alliance luncheon, held at the National Coffee Association Convention in San Francisco. During this time, Grace spoke about her journey in coffee.
 Here is an excerpt of my discussion with Grace.
Laura: We are all on a journey, our paths may be different, some more difficult than others, but deep down, our journeys are similar. They are journeys that tell of struggles, joys, and triumphs. They are journeys that make us realize that the more we connect with others, open ourselves to new experiences, and share with each other, the more we reveal to ourselves about our inner strengths, our capabilities, our desires.
As we sit here among these women and men from around the world, we know that there are stories to be told.  Journeys that are filled with those joys and sorrows, those struggles and triumphs.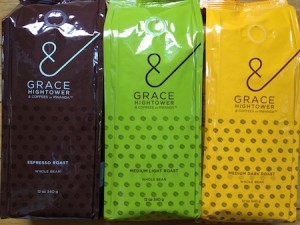 We are here to share the journey that has brought you here today. The journey that has led you to Rwanda, to bring to market the collection of coffees called Grace Hightower & Coffees of Rwanda.
Your journey began in Mississippi in the mid-1950s.  Coincidentally, it was a time when the winds of destruction began in Rwanda marking decades of ethnic violence in the country and which culminated in the 1994 genocide. For our country, it was a time of hope in space exploration, a time of fear as communism and capitalism clashed, and a time when racial conflicts were high and prevalent, especially in the south, where you grew up. Please tell us a bit about your childhood, where you grew up and how it influenced you.
Grace: I grew up in the South with my parents and ten siblings. We lived on a farm, of modest means, producing and eating nearly all that we ate. In fact, the only time we visited the supermarket was when we bought sugar.
We worked the land, ate from the land, and became connected to the land. As a result, I became very aware of the importance of taking care of the land.
My Mother and Father were very influential in my life, instilling in me the importance of so many things. But it was my father who truly impressed upon me the importance of working hard and the concept of do unto others as you would have done to you. He also always said to me, "Never to go to bed without paying your debts."
But it was also a time when I, as a black girl living in the South, saw the racial tensions and the segregation so prevalent at that time. At a young age, I became very much aware of the similarities – and dissimilarities – there were among people.
I also had a desire to travel the world and experience more than our little farm. As a young girl, I traveled the world with my brother – in the pages of our encyclopedia. But later in life, I did have the chance to travel the world, and to learn so much more about people – and furthered my understanding of how we are all different, yet similar in so many ways.
Laura: It is evident that your life's experiences have taken you far from your roots in Mississippi. You have traveled the world and seen many cultures. Today you find yourself connected to Rwanda and coffee. How did that come to be?
Grace: Several years ago I was at a reception where I heard President Kigame speak. I was immediately engaged by his vision for the country – of how his goal is to harness the strength and knowledge of the Rwandan people so they can build a future from a foundation of trade, not aid.
At that same reception, I had the opportunity to meet the Ambassador to the UN, and his wife. We spoke of Rwanda, it's people and it's land. It became apparent to me how special these people were. In spite of their tragedy, they have desired to move on, to live life, and to be in charge of their destiny. In particular, speaking with the Ambassador's wife, I realized that she, who had been deeply touched by the genocide, demonstrated the ability to move on, to live in the present, and not hold herself a victim. In speaking with her, I felt compelled to learn more about the people and country, to learn about their tenacity, fortitude and strength.
Laura: As we sit here at the International Women's Coffee Alliance luncheon, we are surrounded by women who have all been touched by coffee. How did the women of Rwanda inspire you?
Grace: When I first visited the country it was all a lot to take in. The beauty of Rwanda and its people, in addition to seeing the coffee farms and learning more about what it takes to bring that cup of coffee to our table.
What I found in the women I met was a tremendous strength and desire to work hard and to create something for their families, and their communities.
One woman, Immy, has explored many business ventures, currently owns a washing station in East Rwanda and helped to establish a cooperative of 100 women coffee growers. She is a role model for other women and has been elected at President of the Chamber of Women Entrepreneurs. Her coffee was a 2010 Cup of Excellence winner.
Another woman, name Valentine was also inspirational. She, along with her brother, was orphaned in the genocide. They returned to their family's coffee farm after the genocide and together have established a model coffee farm, allowing them to earn enough money to send their children to school. Valentine also works at the NKora coffee washing station, further adding to her family's income.
Laura:  From your experience as you travelled to Rwanda, meeting the farmers and, in particular, the women and children, you developed a dream about Rwanda and coffee. How did our visit to Rwanda affect the type of business you wanted to create? And, what are those criteria that you bring to Grace Hightower and Coffees of Rwanda?
Grace: When I was creating my own business, I knew that I wanted to deal directly with the farmers. As well, I wanted to work with as many women as possible – not excluding men –  but to find a way to empower women to learn about business and become a part of the country's success.
I also wanted to create a business that would be focused on sustainability, and finally, the product would be of the highest quality it could be. With regards to quality, I had a feeling it could be really high, and that encouraged me, and excited me about the true potential of this business.
Laura: In a very short time your dream has become reality. The coffee is on the shelves in Whole Foods markets and consumers are learning about your dream and are buying and drinking the coffee. How did you feel when you first saw your name on a bag of coffee?
Grace: I was scared. It was overwhelming, because I felt, "Here it is, my name is on something." But, at the same time it was very empowering. It gave me further confidence to go with my dreams and to accomplish something that can help create change.
Laura: Your journey from Mississippi to Rwanda and coffee has taken many unexpected turns and has been the catalyst for what your future holds. What message do you have for the women in this room for the women of Rwanda and for the coffee industry as a whole?
Grace: Of course, I want the consumer to know that what they are getting is a quality product, but my dream for the brand is to have it represent all that the country has to hold – the dreams, the strength, the forgiveness. My desire is to have the brand invoke thoughts about other parts of the world, and the realization of everything that goes into creating this delicious cup of coffee they are drinking.
I would also like it to create a lot more awareness of others on this planet. An awareness of the strengths and weaknesses, the kindness, the gratitude and the challenges – all that is going on in Rwanda. Many people know about the genocide and it is too much to bear, but when they hear the stories about the strength of the Rwandan people, it will inv oke a bit of soul searching, and an understanding that we are all on the same journey, and if we can help each other, our journey's will be more complete.
To read more about the brand and where to purchase the coffees, please visit the Grace Hightower & Coffees of Rwanda website.
Originally posted on Coffee Universe 

Print Friendly