With the Golden Globes tomorrow, we'd like to thank Owl's Brew for these delicious recipes that were created based on this year's nominations! Owl's Brew Tea Blends are crafted for cocktails and are fresh brewed from real, whole spices, fruits and herbs. Available in three flavors – The Classic, Pink & Black, and Coco-Lada.
Poppins' Toddy 
(inspired by Saving Mr. Banks)
In a saucepan, combine:
-2 parts Owl's Brew The Classic
-1 part Whiskey
-Apple slices
Heat until desired temperature.  Do not boil.
-Pour into mug
-Garnish with Cinnamon Stick
The American Bubbly
(inspired by American Hustle)
-1 Part Owl's Brew Coco-Lada
-1 Part Prosecco
-Pour into a champagne flute
-Garnish with fresh pineapple
A Wolf's Manhattan
(inspired by Wolf of Wall Street)
-1 Part Owl's Brew Pink & Black
-1 Part Whiskey
-2 dashes of bitters
-Shake and pour over rocks
-Garnish with Orange Slice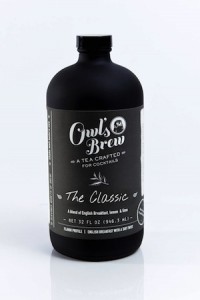 Order your Owl's Brew here.

Print Friendly